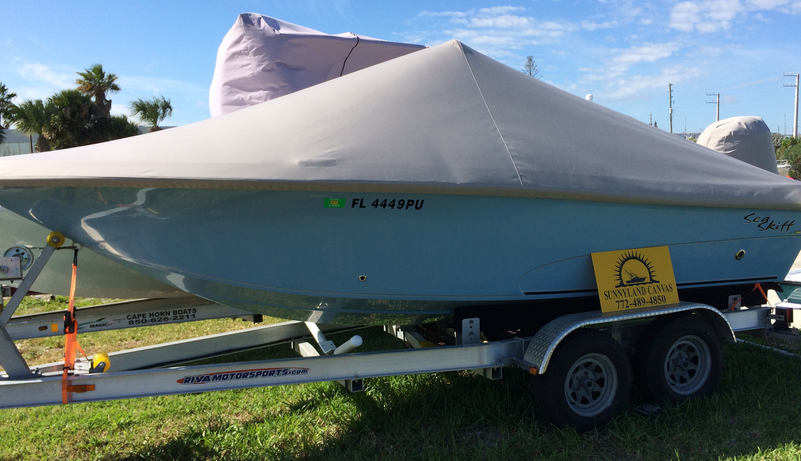 Best Pontoon Boat Cover to Protect your Boat
As the owner of a pontoon boat, your natural instinct to protect it will inevitably lead to you buying a pontoon boat cover. Covers are a great way to safeguard your boat from damage, and to store it more securely in times of disuse, particularly during cooler months or less temperate seasons.
Pontoon boat covers are easy to find, and most boat accessory retailers will sell a range of covers for you to choose from. However, finding a high quality pontoon boat cover requires a little more research, and perhaps a touch more consideration. In the interest of facilitating this process for you, we've created a brief guide to buying the best pontoon boat cover possible.
Buying Guide: What To Look For When Buying Your Pontoon Boat Cover
When buying a pontoon boat cover, there are a few considerations for you to keep in mind. The pointers listed below will allow you to choose the best cover, and to ensure that the product you opt for meets your specifications exactly, in the interest of helping you avoid any complications.
Size
When choosing your pontoon boat cover, it's critical that you ensure compatibility in terms of sizing. Most retailers will provide a sizing chart for reference, and in order to ensure that the cover (with snaps) fits your boat, you should check this thoroughly before purchasing.
Finish
Because boats, and in particular pontoon boats, are typically stored in moist and damp environments- they are prone to mildew and mold infestations. Therefore, when choosing your pontoon boat cover, you should ensure that it provides a suitable resistance to these growths.
Ease of Use
When buying your pontoon boat cover with snaps, you should check that it features a user-friendly fastening system. This will allow you to quickly, and effortlessly, cover and uncover your boat between uses.
Understand Pontoon Boat Cover Materials
As with most boat covers, pontoon boat covers are manufactured from a wide selection of different materials. You can, for example, purchase a cover made from polyester canvas. This is a high quality material, that is easy to waterproof, and will prove extremely durable in the longterm.
Another common material used in boat covers is pure polyester. The polyester is typically coated in a chemical solution, to ensure total impermeability, and is an excellent option for cheaper yet nonetheless effective covers.
Pontoon Boat Covers Review
Choosing the right pontoon boat cover, in terms of quality, can prove difficult. After all, you're faced with a large amount of choices that all present themselves as the best possible option. In the interest of helping you choose, and giving you a guideline with which to compare other products, we have compiled a selection of our favorite pontoon boat covers- all available through amazon.com.
Review #1: Classic Accessories Stellex Cover
Classic Accessories is an excellent choice of brand for those looking for affordable, reliable boat covers with a variety of added security measures. Their pontoon boat cover features a range of finishes, including a UV and mildew resistant coating, making it an excellent option for harsher climates.
What We Love:
The Stellex cover is made from their patented Stellex polyester, which Classic Accessories claims is '20% lighter and 5x more color fast' than that of their competitors. The material itself is very durable, and designed to withstand a range of climates.
This cover features UV and mildew resistant coatings, making it a highly versatile cover, sure to protect your boat. It's also treated with a UV color inhibitor, that prevents colors from fading on the boat exterior.
It's a flexible cover, that fits a range of boat sizes.
What We Don't Love:
It doesn't fit all boat sizes, making it a little less universal than one would hope.
The fastenings can loosen after exposure to strong winds, and the cover may require readjusting in harsher weather.
Review #2: Yescom Pontoon Boat Cover
This pontoon boat cover with snaps by Yescom is a novel product, with a quick-release buckle system that far outweighs most traditional fastenings. It's very durable, very easy to use and an excellent option for those looking for the perfect blend of convenience and quality.
What We Love:
It features a PU coating, making it extremely water resistant, and highly durable.
It's treated to protect boats from moisture, mildew and harmful UV rays.
It was built with the user in mind, and features an easy to use buckle/strap system, in addition to an elasticated hem that will easily stretch over boats.
What We Don't Love:
It's difficult to fault this product, it features all the qualities of an excellent boat cover, and doesn't disappoint in any particular respect.
Review #3: Vortex Pontoon Boat Cover
This boat cover by Vortex is an excellent option for those looking for a basic, yet very effective product, that will protect your boat no matter the condition of its storage. It's a heavyset cover, intended for larger boats, although it will fit a variety of sizes.
What We Love:
This is an incredibly thick, heavy duty cover that is virtually impossible for moisture to penetrate.
The fastenings are very strong and secure, making it the ideal cover for boats stored in stormier conditions, particularly in places with strong winds or rough waters.
It's easy to install, and can be used almost immediately after unboxing.
What We Don't Love:
While the tarp itself is very strong, occasionally, the seams may weaken after repeated use. This can lead to tears and unraveling.
Review #4: North East Harbor
North East Harbor is renowned for their high quality boat products, and their pontoon boat cover is no exception. This product is made from high quality materials; is very easy to use and features a range of finishes that will protect and safeguard your boat from damage.
What We Love:
This North East Harbor pontoon boat cover was designed for ease of use. The straps are easy to adjust, and the cover itself was intended to be trailerable. It features trailering straps that are quick to use, making this a great option for those who enjoy traveling with their boat, particularly on impromptu trips.
The pontoon cover is made from high grade polyester, and features a very effective waterproofing coating that also protects boats from harmful UV rays.
What We Don't Love:
– It doesn't offer the most variety in terms of sizing, meaning that it may not fit the proportions of your boat exactly. You should reference the sizing guide before purchasing the product.
Pontoon Cover Purchase Tips
When buying your pontoon cover, regardless of brand or style, you should ensure that it features the three main components of any good boat cover. This is a great tip to ensure that you purchase the appropriate cover. These three components are:
Waterproof and UV finishes.
No good boat cover is complete without a waterproof coating, that will protect the boat from moisture and mildew. Likewise, as boats are often moored outside, their covers should feature UV protection to safeguard the boat from any sun damage.
Convenient Fastenings:
Ideally, your pontoon boat cover should feature easy to use fastenings, that can be adjusted as needed. This will save you time and resources.
A Durable Fabric:
Pontoon boat covers should be made from durable, hardwearing materials that won't tear or break easily in harsh conditions. These usually involve a form of canvas or polyester, although other materials are also available.
How To Measure For A Pontoon Boat Cover
In order to ensure that you buy the correct cover size for the dimensions of your boat, it's critical that you measure your boat accurately. The dimensions you need to obtain are:
Boat Length: Measured from the middle of the transom to the bow.
Boat Width: Measured across the widest part of your boat, usually in the centre.
How To Clean A Pontoon Boat Cover
All boat covers, regardless of finish or durability, will need to be cleaned at some point. This is because moisture builds up over time and could, ultimately, cause a layer of mildew or mold.
The easiest way to clean a pontoon boat cover is to create a mixture of chlorine bleach; industrial grade soap and water. The proportions should be 4:2:1 respectively. Once this conception is mixed, you should then use a soft bristled brush, and gently scrub the pontoon cover. Before rinsing, allow the cover to sit for 15 minutes, and then wash with warm water and air dry.
Pontoon Boat Covers: In Conclusion
There are many different pontoon covers available to customers, and ultimately, the choice is yours. However, we can't recommend the above products highly enough, and hope you will use them as a measure of comparison when shopping for you boat cover.
Regardless of what you choose, we hope that our guide will steer you in the right direction, and allow you to buy the best pontoon cover for your needs.