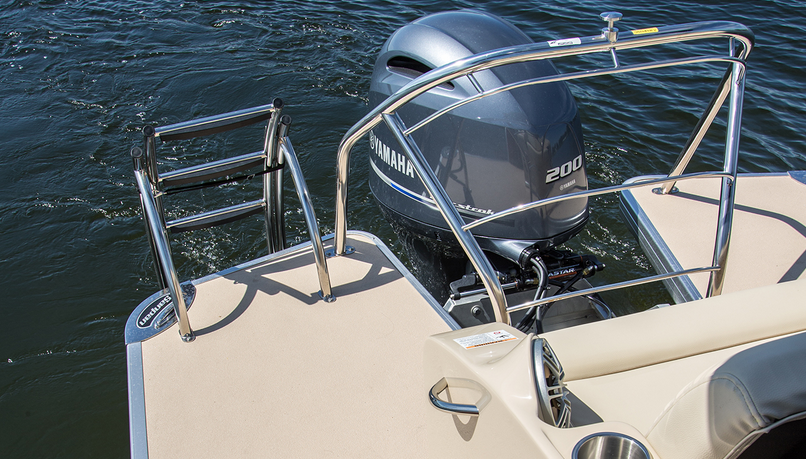 How To Find (And Buy) The Best Pontoon Boat Tow Bar
If you own a Pontoon boat, chances are you intend to use it for fun, as well as to entertain guests and visitors alike. For this reason, you may consider attaching a tow bar to your Pontoon, in the interest of helping you tow your favorite tubes; skis and water sports equipment.
If you're interested in purchasing a tow bar, however, you may be confused as to which variety you need. You may also require a little general guidance, particularly in terms of the brands you should choose and the type of bar that your Pontoon will require. The following article will seek to address these concerns, and more, with the intention of helping you choose the best Pontoon ski bar for your boat.
Buying Guide:  What To Look For When Buying Ski/Tow Bars
When buying ski bars, you may find yourself with a number of options to choose between. While narrowing down your choices can seem somewhat overwhelming, there are a simple set of guidelines that you should follow, in the interest of ensuring that you're choosing the right products for your needs.
Ease of Mounting
When researching ski bar options, you should ensure that you look for products that are easy to mount, and that are compatible with your boat. You should make sure, first and foremost, that the bar you purchase doesn't require any drilling or further mounts (that may prove incompatible with the structure of your Pontoon).
Durability
One of the most important qualities to look for in a Pontoon boat is durability. You should ensure that the bar is made from strong, industry-standard metals that will not bend or break when you exert pressure on them. This will allow you to tow heavier skis and other objects, without fear of damage or loss.
Tow Bars: In Review
When buying a pontoon ski bar, you should ensure that you research the product thoroughly before purchasing. This means browsing reviews, and asking friends for recommendations. Below, you will find reviews for two recommended products, with the advantages and drawbacks included for your convenience. You may use these as a means of comparison, or as viable suggestions for products to consider.
Tow Bar Review #1: Monster Swing Turbo Swing Tow Bar
This tow bar, manufactured and retailed by Monster Swing, is an excellent option for those looking to tow skis and other heavy equipment from their Pontoon boat. It doesn't require any specialized equipment; is easy to install; is compatible with a range of water sports gear and is generally recommended for its versatility.
What We Love:
The TurboSwing by Monster Swing is made from stainless steel, and is very durable yet somewhat flexible.
This product elevates the towrope above the wake, keeping the towline above the water, and claims to add towing power of up to 20 horsepower.
This product is compatible with a range of products, including tubes; wakeboard equipment; skis and other gear.
What We Don't Love:
The major drawback with this product is the price, although most customers agree that despite this product costing slightly more than average, it still fares well in the face of more competitively priced brands.
Tow Bar Review #2: Origin OWT-I Wakeboard
This ski tow bar for Pontoon, by Origin, is a very basic yet very reliable bar for you to consider. It features universal mounting, a polished aluminum finish and a 5 year warranty for you to take advantage of—should your product break or deteriorate from harsh conditions.
What We Love:
This is a very sturdy, very reliable tower that will withstand a large amount of weight and pull from skis or inflatables.
Origin includes all the necessary hardware needed to install this product, and the tow bar itself is very easy to mount.
What We Don't Love:
– Origin is a very transparent brand, and there are not noteworthy drawbacks with this product. Customers generally have few complaints, and if you are looking for a sturdy and reliable option, then this is certainly one worthy of your consideration.
Pontoon Tow Bar Installation Guide
Depending on the product that you opt for, you may find yourself having to install a tow bar onto your boat. Usually, this involves you securing the brackets to your chosen mounting surface, and then installing the pivot bracket. Most products are sold with a set of detailed, thorough instructions that we recommend you read before beginning the installation process.
However, in the interest of saving time and energy, you may decide to choose a product that features clips. In this instance, the main and only step will involve you clipping the mount to your  surface— and securing it tightly. The most critical step, that you should emphasize when mounting your tow bar, is the step that involves you securing your brackets. In the interest of safety, you should ensure that any safety measures are secured as tightly as possible.
Pontoon Ski Tow Bar: In Conclusion
As with any boat-related product, the key to you finding the right product for your needs is to do your research. Once you have compiled a number of options, you can then use the above criteria to narrow down your choices, and the above reviews to compare the quality and ease of use of your product with our recommended options.
It's important to note that, in the interest of your safety, you should not cut costs at the expense of quality. Ensure that the tow bar you are purchasing is made from sturdy, durable materials and that the mounting equipment provided is certified and expertly made. This will help you avoid any accidents and ensure absolute fun aboard your Pontoon boat.