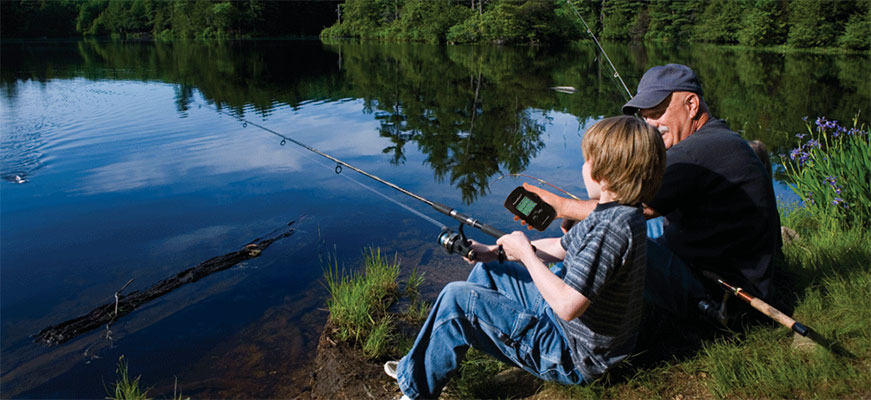 How To Use A Fish Finder
A fish finder can be your best friend or waste valuable fishing time if it's not used to its potential.  Used correctly, the fish finder will help clear the murky water between you and your next catch.  In learning how to use your fish finder, it's a good idea that you have a basic working knowledge of how it functions.  With that information and adding a few tips to help out, and you are on your way to catching a boat full of fish. And if you haven't yet found the best fish finder for the money, then check out our recommendations. Our editors compared all the top rated fish finders on the market to come up with a list of the best fish finders on the market today for the angler on a budget.
Top 10 Best Fish Finders Under $1000 (2016)
our rating is based on performance, features, and value
How a Fish Finder Works
A fish finder uses sonar to locate and define objects in the water beneath your boat.  Sonar means Sound Navigation and Ranging, and is a system of detecting things under water by sound pulses or "pings."  Pings are sent out from the fish finder's location in an upside down cone shape to the bottom.  These sound pulses create echoes that travel back to the fish finder to help define an image, its size, and the depth of the object by sending it instantly to the to the fish finder's LCD screen.
With each new ping reflected echo the fish finder receives, a new image is added to create a scrolling screen effect.  This creates a rough graph of the objects in the river, lake, or ocean bottom below.  The image will depend on the type of fish finder you have.  You will be able to adjust the sonar pulse frequency.  Very high frequency (VHF) signals around 455 kHz are suitable for giving a clearer definition but are limited in deep water.  A medium frequency around 200 kHz is a good balance between image resolution and depth.  A low frequency around 83 kHz is best for greater depth with some loss of detail.
There is also a power output choice, which is the amount of energy put into the sonar pulse transmission.  A higher power output will increase the ability to detect smaller targets over greater distances without too much background noise.  It also works well with the VHF to enhance depth capability.  Many fish finders today also support GPS technology and chart plotting capabilities.  This fish finder will plot your position in relation to underwater details on a grid.
Tips for Using Your Fish Finder
Settings – Don't be afraid to mess around with the settings, even if you remove the factory set filters to see for yourself what you can distinguish on the graphs.  This will help you find settings that work for the area you are fishing because there is no perfect setting.  Once you find one that works, it's best to stick with it for consistency so you won't miss a school of fish that shows up.
Recognizing Formations – There are three different types of school formations, attack, wall-to-wall carpet, and an explosion.

Attack Formation – An active school of fish grouped in a vertical mound or haystack formation.  Time to fill up the boat with fish.
Wall–to-Wall­ Carpet – The fish are on the bottom and spread out like carpet in a scattered formation.  This formation will produce a slow day of fishing that might lead to a big fish catch.
Explosion – An explosion of fish looks enticing, but they are actually spread out in all directions without a true formation.  This is one formation you may want to pass on because it's hard to get the fish to bite when they are frenzied this way.

Sweeps – Taking some big sweeps of the area to graph out the bottom and then you can begin to find locations where you want to settle in and set anchor.
Using a fish finder can be tricky at first so take some time to play with the settings.  Find what works best to give a good picture of what's under your boat.  Then be consistent and enjoy filling your boat with fish!