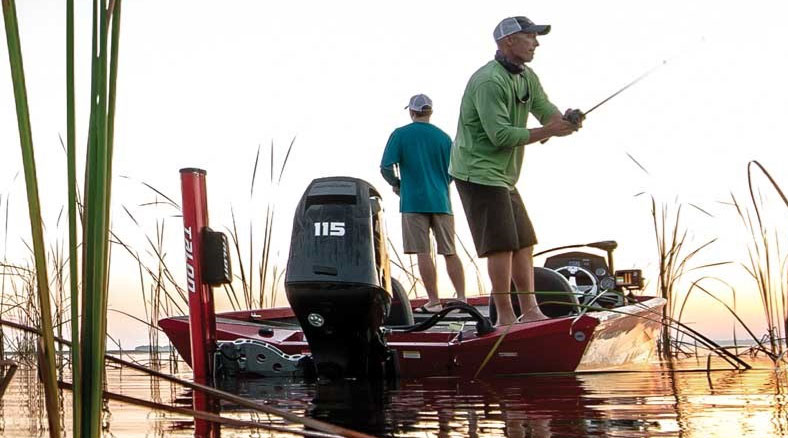 Humminbird HELIX 5 SI GPS Fish Finder Review
Having trouble finding the fish when you go out on the lake or river? By using the Humminbird HELIX 5 SI GPS Fish Finder, you can make sure that you find them every time you take the boat out. If you are an avid fisherman or fisherwoman, having a GPS locator that maximizes your angling experience makes life easier. And this is probably the best fishfinder GPS combo under $500 that you can find right now. For more info on how to use a fish finder, check out our article via the link.
The Humminbird HELIX 5 SI GPS Fish Finder contains several features including: a 5″ 480V x 800H 256-color TFT LCD display screen, Precision GPS with UniMap technology, and 455/800 kHz Down Imaging and Side Imaging. These features combine to help you find fish on the surface to as low as 1,500 feet undersea. So should you be humming to get a Humminbird HELIX 5 SI GPS Fish Finder? Let's find out!
Check Price on Amazon
Top Features
Precision Internal GPS Chartplotting with built-in UniMap cartography: This feature is what the device uses to maximize your angling experience
5″ 480V x 800H 256-color TFT LCD display with backlight: The 5-Inch LCD display screen ensures clear, crisp images in all types of lighting conditions day and night.
455/800 kHz Down Imaging and Side Imaging: Displays vivid details of fish location whether on surface or underwater
Capable of scanning depths up to 1,500′: Capable of scanning as far as 1500 feet below sea level
83/200 kHz DualBeam Sonar with SwitchFire technology: Helps provide water temperature, depth and vessel speed
X-Press Menu system for toggling views
Stores up to 2,500 waypoints and 45 routes
MicroSD™ card slot provides extra storage for maps
Compatible with Navionics Gold, HotMaps, Lake Master, AutoChart, and AutoChart Pro
Check Price on Amazon
Best Things About It
Highly Vivid Display Screen: Despite the LCD Display being only 5-inch, the screen shows high-quality images; It also has a backlight that allows the images to be viewed whether it is day or night.
Superb GPS locator: The GPS system (along with the built-in UniMap cartography) will make fishing easier.
Quality Down and Side Imaging: The down and side imaging capabilities of this device allow for clear, vivid images of fishes to be shown
Ability to Scan as Low as 1,500 Feet: The ability to scan 1,500 feet below sea level will make it easy to locate all sorts of fish
Can Store Up to 2,500 Waypoints and 45 Routes: Being able to store this many waypoints and routes will be enough space for most fisherman to save all of their favorite fishing locations.
Great Customer Service: If you have issues with the device, the customer service is helpful and is willing to assist.
What We're Not Crazy About
Small Screen: Of course, it would be easier to view a 7 or 8 inch display screen versus a 5 inch one.
The Price Is a Little Steep: While the cost isn't extremely high, there are other marine GPS fish finding devices that are more affordable.
Check Price on Amazon
Recommended For
Avid Fishermen & Fisherwomen: If you get giddy at the thought of getting in a boat and fishing, this device will suit your needs. Experienced fishermen and fisherwomen will find this device very helpful.
Modern Fishermen & Fisherwomen: If you rather locate fish via GPS, might as well do it with a high-quality device like this one
Not Recommended For
Somebody Wanting an Affordable GPS Fish Finder: There are other quality GPS Fish Finders that cost less
Somebody Desiring a Big Display Screen: Some people will find that the 5-inch screen isn't big enough for their viewing pleasure
Beginners or People Who Rarely Fish: If you just started (or rarely) fishing, this device may be too advance for your needs.
Old School Fishermen & Fisherwomen: If you prefer fishing the old fashion way, then there is no need for a GPS fish tracker
Check Price on Amazon
Review Summary
Overall, the Humminbird HELIX 5 SI GPS Fish Finder is a great purchase for the modern fisher who has a vast amount of fishing experience. While the unit is kind of pricey for beginners, it definitely makes your fishing experience a little easier.
Featured image source: Humminbird
Our Rating
Value

Quality

Performance

Features
Summary
Overall, if you're looking for a cheap fishfinder with GPS combo, then this model is a high quality choice at a mid-level price. At most retailers, it sells for just under $500. Not sure if it is for you? Read more reviews on Amazon.