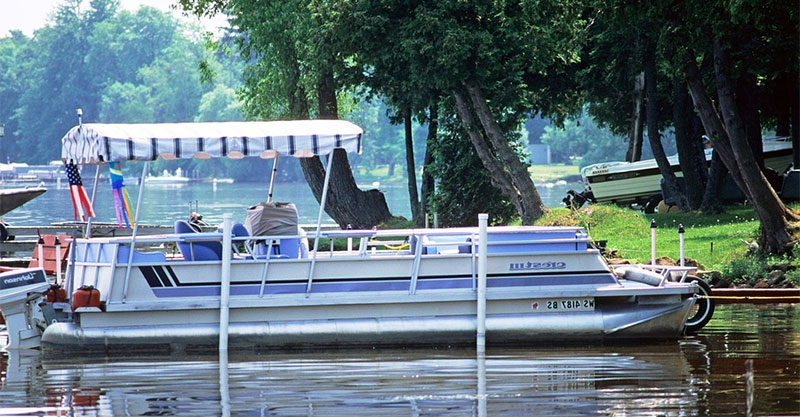 Buying Guide: Your First Pontoon Boat
Pontoon boats are getting more popular as the designs and capabilities have improved in recent years. Today they offer an attractive appearance and a smooth ride. When thinking about getting a pontoon boat, it is important to understand the styles available and have a good idea of how you will be using it. If you want one for fishing, for parties, or for just hanging out on the lake, there are nuances in style that will affect the kind you buy. If it is just going to be you or a couple of people going out in it, then a small inflatable model is the perfect option for your first pontoon boat. We share our top rated inflatable pontoon boats selection in the chart below. Keep in mind that these are some of the best inflatable pontoon boats for fishing on the market right now.
Top 10 Best Value Inflatable Pontoon Boats For The Money (2016)
our rating is based on performance, features, and value
Inflatable vs Non-Inflatable
If you are shopping based on a small budget and limited space, then a good inflatable pontoon boat is the best option for you. This is the cheapest type of pontoon boat on the market, plus you can take it anywhere (including on vacation!).
With an inflatable model, you don't have to worry about having space to park and store your boat. And, you don't need a large vehicle with a trailer hitch and a boat trailer. Overall, choosing an inflatable boat not only saves you money, but also makes it easy for anyone to have their very own pontoon boat.
Obviously, the main benefit of a traditional non-inflatable model is that it is more durable and it is a valuable asset that you can easily sell when you no longer need it. This type retains its value much better than the inflatable models. Plus, you can typically fit more people on one of these than you can on an inflatable model.
To view some one man pontoon boats reviews to see if the inflatable models are a good option for you, check out these reviews:
And for a two man pontoon boat review, take a look at:
Classic Accessories Colorado Inflatable Pontoon Boat Review
Looking to go fishing? This pontoon boat rides high for improved visibility and has a unique dual-side stripping apron. Access more storage with a wire rear storage and battery platform, as well as 10 mesh and 12 zipper pockets. Maneuver through shallow waters with abrasion-resistant PVC bottoms, tough nylon tops, double hull pontoon bladders, and a powder-coated steel tube frame. For your comfort, it has three oar-lock positions and adjustable seating with a padded fold-down plastic seat.
Pros: Sturdy, tons of storage, easy to assemble and take apart, 1-year warranty
Cons: No electric pump included, difficult to row in a straight line, hard to handle alone
Classic Accessories Oswego Inflatable Pontoon Boat Review
Get back on the water with the Oswego Inflatable Pontoon Boat from Classic Accessories. With a 450 pound capacity and 10 feet of length, loading gear and attaching a trolling motor won't be a problem. The boat has a dry weight of just 76 pounds, and can be transported partially assembled and inflated, cutting down on prep time once at the destination. The padded seat has an adjustable mount and folds down for use. Rated for Class I rivers.
Pros: Strength and durability from the bronze oarlocks and powder-coated steel frame, plenty of onboard storage options, 7 foot aluminum oars included
Cons: Does not come with an air pump, which will need to be purchased separately
Sea Eagle Green 375FC Inflatable FoldCat Fishing Pontoon Boat Review
Bring in a great catch in this inflatable pontoon fishing boat! This Sea Eagle model is compatible with the ScottyTM Mount System. It has 2-4 ScottyTM Rod Holders and can host other ScottyTm accessories. This boat's unique patented folding frame assembles in five minutes.  Go fishing alone or bring a friend along because this boat seats two. Its motor mount can accommodate gas or electric motors.
Pros: No trailer required: it fits right in your car! Its hunter green color blends into the water, making you nearly undetectable to fish, giving you the best catch.
Cons: Takes some time to inflate.
Fish Cat Scout Frameless Inflatable Fishing Pontoon Boat Review
Designed to be portable and foldable for storage when on land and not in use, the Fish Cat Scout Frameless Fishing Boat  is an inflatable fishing boat with all the necessary attachments for professional fishing. The boat comes with a bag for lures and hand equipment, two oar connections with oars, a work table, and a durable seat for long-term sitting. Unfortunately, the boat also comes with an open bottom, making it only useful for very calm lakes and waters. Anything rough and this flotation device is going to swamp and sink.
Pros: Foldable and designed for portability and quick fishing deployment.
Cons: Half open bottom limits this boat to practically flat lakes and no more.
Classic Accessories Colorado XT Inflatable Pontoon Boat Review
Built with a bare bones pontoon design in mind, the Colorado XT Inflatable Pontoon Boat is perfect for swamp and pond area fishing as well as lakes. The two side pontoons are extra thick with a suspended seat and footpegs for a comfortable position. With a storage tray in the back, side bags, and a work table on the side, the Colorado XT is an ideal package for quick water touring after driving to a specific destination.
Pros: Lightweight, utility-designed, includes all the tools a for a single fisherman use.
Cons: The open bottom makes this boat a bit risky if the user is not paying attention.
Deck Size
The size of the deck is important and will be determined by what you need. The deck size is  the actual usable space. The tube size is different and has more to do with performance or power.  A boat under 20 feet long is good for small and calm lakes or ponds, and will hold up to eight people. A 20-22 foot long boat is good for lakes or rivers and will hold a dozen people. A boat that is 23-27 feet long is good for waters that are not so calm and can hold 15 people. Those are the three most common sizes.
Usage Considerations
The size has more to do with how many people you plan to have around, but the purpose of the boat, or what you want to do with it, is a great consideration as well. If you want a nice boat for relaxing on the water, a large sun deck will be important. If you want to have parties and larger groups, get one with ample seating and storage. If you are going to be swimming and getting in the water, get a pontoon with easy access to the water. For fishing, you need fishing chairs on the deck.
Common Features
Once you have decided why you want a pontoon boat, and how big your group is likely to be, you are ready to start choosing options and amenities. Boats have different levels of quality when it comes to things like seating and storage areas. Make sure the seating is comfortable and made of durable marine grade vinyl.  Consider a roof or canopy for the boat. This will pay off with shade in summer, and will extend the season when the weather turns bad.  It will also extend the life of the boat by giving protection against the elements.  Some higher priced boats have carpeting, nice sound systems, changing rooms and other items. The important thing is to get amenities that you will actually use and that are important to you.
Cost Considerations
The price of a pontoon boat varies greatly, and there are used ones for sale out there, that are cheaper than new ones. If you are not real familiar with pontoon boats, it may not be a good idea to consider a used one as you will not be as aware of things to look for. In general, you get what you pay for, but there is no need to pay for extras that you will not likely use. For instance, if you are not planning on fishing, you might not want to bother with a fishing chair.
The high end pontoon boats can range from $11,000 up to $30,000, depending on a lot of factors. The average is about $20,000 for a mid-sized boat. The higher end boats have more power that can let you be more involved in water sport. Greater engine power also costs more as you move to the higher end. Of course, the most affordable option is an inflatable pontoon boat. The most important thing is to really know why you want a pontoon boat, and then find one that fits that specific area or style. You do get what you pay for, but at the same time, a cheaper one that meets your needs may be a better deal over time.
How To Speed Up Your Inflatable Pontoon Boat