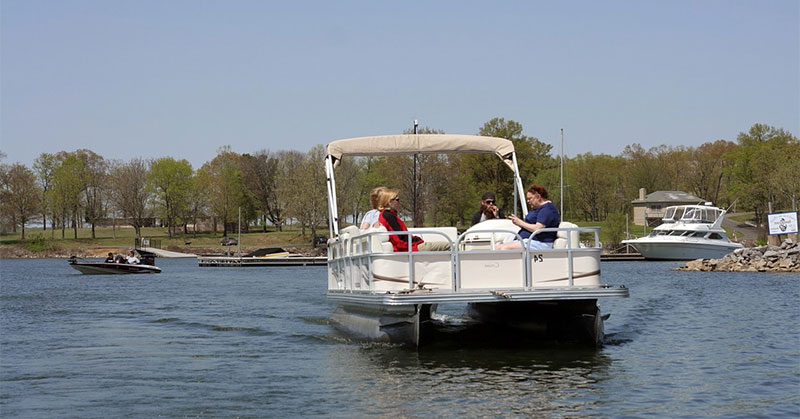 Pontoon Boat vs. Deck Boat
Pontoon boats and deck boats were built for essentially the same purpose – to provide a place for a group of people to hang out on the water.  The differences between the two are not that great, and some say the differences are fading away. In deciding which one, the questions to answer are what your purpose is and how important styling is to you. To a large degree it is more a matter of personal taste than anything.
Pontoon boats were introduced to the American audience at the 1958 Worlds Fair in Chicago. Two or three large tubes holding up a flat structure was the basic idea, and it caught on quickly. In 1974 the deck boat was introduced as an improvement, offering better handling and more performance.
The biggest change brought on by the deck boat was a V shaped hull, which allowed the boat to be easier to turn and to move faster.  The bow section was also brought forward, to allow more people in the forward area of the boat. As a result of the change, the Pontoon boat offers a little more room and more stability. The Deck boat offers easier handling and more speed at the expense of overall space.  You can easily use a deck boat for pulling skiers, and not many pontoon boats will do that, the some well.
In styling the Deck boat wins easily, and that is by design. The pontoon boats were originally very utilitarian. Originally they also didn't look like what we think of as boats. Pontoon boats have rails, good quality vinyl seats, and plain carpet.  Pontoon boats are designed to be practical, while Deck Boats tried to improve that image.  Deck boats usually have coordinated upholstery, bimini tops and nice carpet. Part of the design is that they also look more like standard boats, but still serve the same function as a pontoon boat. If style matters, you will prefer a deck boat.
Both pontoon and deck boats offer a lot of versatility on the water. With either one, you can do a wide variety of activities, and there are options for different things like pulling skiers or fishing. The biggest difference, is you can do it a little faster with a deck boat, and the usually are more effective at pulling water skiers.
Both types of boats are also easy to operate on the water. While a deck boat may be a little less stable than a pontoon, it is still stable enough for any activity. Pontoons are less able to handle waves and rough water, so that is one disadvantage. Deck boats can handle the rougher waters,  but are still a little less stable than the pontoon boats.
There are many similarities, and the differences are not that great between pontoon and deck boats. Both offer certain advantages at the expense of something else. Pontoons will almost always have more room and be very stable, while not having speed and not turning easily.  Deck boats have the speed, but sacrifice some room and stability to get there.
Deck boats generally are more stylish as well, as pontoons keep their reputation of being utilitarian. The choice comes down to your personal tastes and what you want to do on the water. With both you can have small groups, and that is the advantage of both. If you are more into relaxing and not doing a lot of activities, a pontoon might be best. If your group wants to move faster and do more water sports, a deck boat might be best.