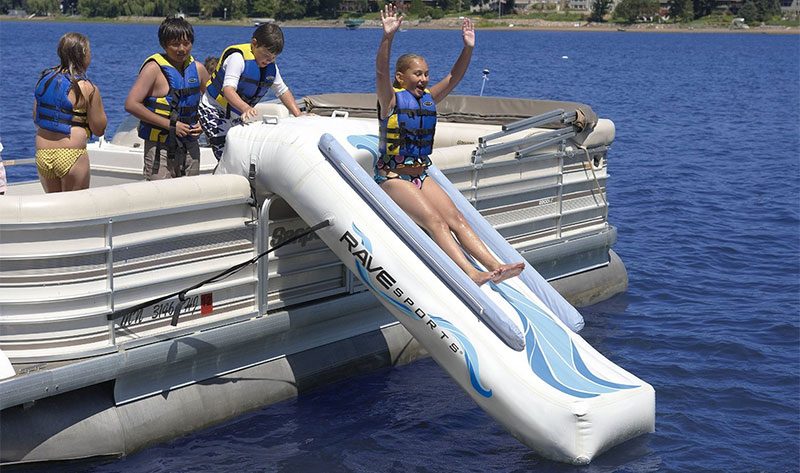 Best Pontoon Water Slide: Rave Sports Pontoon Slide Review
Your pontoon boat gives you, your family and friend's hours of entertainment and the Rave Sports Pontoon Water Slide can add to your boating pleasure. The nine-foot commercial grade slide attaches easily and securely to the side of your pontoon boat and will offer hours of fun for your day on the water. The molded footsteps, vinyl assist handles welded to the top of the slide, and two slider-centering air chambers creates a slick slide into the nearest waterway.
The included 12-volt high-pressure inflator/deflator runs off your boat's battery and makes the business of inflating the Rave Sports Pontoon Slide fast and easy. When you're finished with a day of play on your Pontoon slide, reverse the inflation process by deflating it and storing it in a cooler or under a seat.
View Price on Amazon
Top Features
Heavy Construction
Compact stored size of 27 x 19 x 11.5 inches
Easily inflated with the included 12 volt inflating and deflating pump
Ten-foot length, when inflated
Molded footsteps
Attached assist handles
Best Things About It
The 36.6-pound slide is easy to handle by one or two people and attaches securely to the rail of your pontoon or deck boat.
The heavily constructed, inflatable slide, can handle up to 250 pounds, yet the ease of deflation and small storage space make it a perfect water toy for kids of all ages.
RAVE Sports is in the water sports business and has a reputation for water toys and the quality of the pontoon slide reflects their dedication to a superior product.
The inclusion of a 12-volt pump to inflate and deflate the slide makes it even more convenient and more likely to be used every time your boat hits the water.
View Price on Amazon
We're Not Crazy About
Although the 36.6-pound weight of the slide is suitable for most, smaller or younger boaters may need a team of two to inflate and install the slide.
Although the Pontoon Slide will fit most pontoon boats and some deck boats, adaptability to other boats would be a nice feature.
Recommended For
The pontoon slide is best suited for families who spend a lot of time on the water or who want a water toy that will keep the kids busy.
Although it is designed for pontoon boats, the Pontoon Slide may work on your deck boat. Check manufacturers specification to be sure you boat is compatible.
Not Recommended For
The pontoon slide is not an inexpensive water toy and is better suited to those who use their boats often. Although, even if you only hit the water once a month, having an extra water toy never hurts and a slide will be enjoyed by all aboard.
The slide will not work on pontoon boats with side panels lower than 21 inches or higher than 30 inches. Be sure to measure your boat properly to be sure that it will fit.
View Price on Amazon
Review Summary
The Rave Sports Pontoon Slide is well constructed from quality materials. It should provide you and your fellow boaters, hours of fun, season after season. Easy to inflate, and install you can be on the water in no time. Storage is just as easy, with the provided 12Volt pump, that will deflate your slide and allow you to roll it up into a package the size of a sleeping bag. This makes storage easy. The cost of the Rave Sports Pontoon Slide is priced comparably to the competition but as the maker of the first ever pontoon slide, they still make one that is of higher quality and construction.
Our Rating:
Value

Quality

Performance

Features
Summary
You can only carry so many water toys on your pontoon boat and the portability of the Rave Sports Pontoon Slide should be one of them. Easy set up for play, and to store, the Pontoon Slide will become one of the favorite toys that you carry on board your boat. You may be able to find like products for less, but the Rave Sports Pontoon slide was the first and is still one of the best Pontoon Slides on the market. Read more reviews on Amazon.