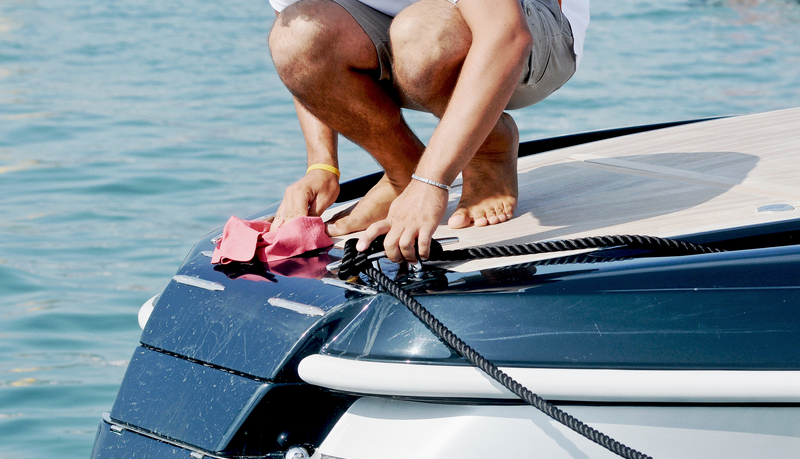 Boat Carpet Cleaner: Tips and Reviews
Boats with carpeting possess an added element of luxury, and are an excellent place to hold upscale events, or to relax in style. However, pontoons with carpets also pose logistical problems, particularly where cleaning is concerned. Salt and dirt from water can become lodged in carpet fibers, whereas repeated exposure to humidity can lead to mold and other infestations, making carpeting somewhat of an inconvenience at times.
In the following article, we will assess the best carpet cleaner for your needs. While we will look at universal methods of cleaning carpets that apply to a range of problems, if your carpet is in need of a specific treatment—you should not disregard this. Depending on the material used in production, and the conditions you subject it to, your carpet may require a targeted and unique cleaning system. If the products and techniques listed below aren't effective in providing results, you should consider consulting an expert or in the least discussing tips with the manufacturer.
Cleaning Your Carpet: Investigating Different Techniques
While many pontoon owners may be tempted to opt for a steam cleaner, where cleaning boat carpeting is concerned, a pressure cleaner is viewed as the best possible solution to your dirt problems. Power cleaners use advanced mechanics to create a strong, powerful pressure that will blast away any grime or dirt left from repeated open-air exposure.
For rough spots, however, an oxy cleaner is recommended. This is a solution that contains baking soda, washing soda (sodium bicarbonate and sodium Percarbonate respectively) as well as water. These three ingredients, when combined, form oxygen, hydrogen peroxide and soda ash. The oxygen is primarily what gives oxy cleaners their name, and is what is so effective in removing dirt particles. You can administer oxy cleaners using a brush or sponge, and they will seep into the fibers, thereby cleaning carpets more thoroughly.
Carpet Cleaners: Our Top Choices For Boat Steam Cleaners and Oxy Carpet Cleaners
There are no shortage of products available for you to choose from, and when cleaning pontoon boat carpets, you are given the option of selecting either a product created specifically for this purpose—or a more generic cleaning agent that will still prove effective in purifying your carpet.
Below, we have reviewed our two top choices for boat steam cleaners and oxy carpet cleaners. Both products are available for purchase through Amazon, and, for a reasonable price, can effectively clean your pontoon carpet. However, if neither option appeals to you, we encourage you to use them as a measure of comparison to analyze your own choices against. It's critical, however, that just as we do below—you also carefully recognize the pros and cons of each product. This will help generate a fuller picture for you, and allow you to better assess the product you are intending to buy.
Boat Steam Cleaner: Bissell SpotBotHandsfree Spot and Stain Cleaner
This pressure cleaner by Bissell is a high quality product, that uses automatic cleaning cycles to provide a very thorough cleansing of boat carpets. The Handsfree Cleaner completes over 400 revolutions per cycle, meaning that it cleans deeply and effectively, without much involvmenet on your part. When cleaning boat carpeting, which is rougher than the average carpet, you need this level of intensity to ensure a very thorough cleaning.
What We Love:
This pressure cleaner has a number of cycles for you to choose between. Therefore, whether you need to simply clean a light and average amount of dirt, or you need to eliminate a glaring stain, you have the option of choosing a setting that will do so effectively for you.
The waste tank, where dirty water is deposited, is treated with microbicide. This eliminates any odors and helps create a feeling of cleanliness during the cleaning, as opposed to after.
What We Don't Love:
Due to its size, this portable pressure cleaner is less effective at cleaning large and difficult stains. However, as far cleaning your pontoon carpet with regularity is concerned, this Bissell cleaner will certainly fulfill its role and provide you with satisfactory results.
Oxy Carpet Cleaner: Blue Coral
This oxy cleaner, by Blue Coral, is a very functional and viable option for you to consider. It consists of a very fine, powdery formula that will create no streaks and leave no residue. It is absorbed effectively into the carpet, and proves itself very effective at thoroughly cleaning everyday dirt and residue from trips out on the water. This is a convenient and easily stored option that can be used with regularity, as part of general maintenance.
What We Love:
This product not only cleans existing dirty, but also leaves a fine protective layer, that will prevent future dirt from settling and staining carpet.
Blue Coral is safe on a range of different fabrics and treatments, making it a very versatile and convenient option for you to consider, even if your carpet is made from a delicate material.
What We Don't Love:
The dispensing nozzle on this product is somewhat temperamental, meaning that administering the product can sometimes prove a little difficult, and may require a slight struggle.
Cleaning Pontoon Carpets: In Conclusion
Regardless of what brand, or type of product you choose, when purchasing your carpet cleaner you should ensure that you choose a reputable and reliable cleaning agent. This will prevent any irreversible damage, and allow you to maintain your pontoon in top condition, leaving a clean and comfortable environment for you and your guests to enjoy.