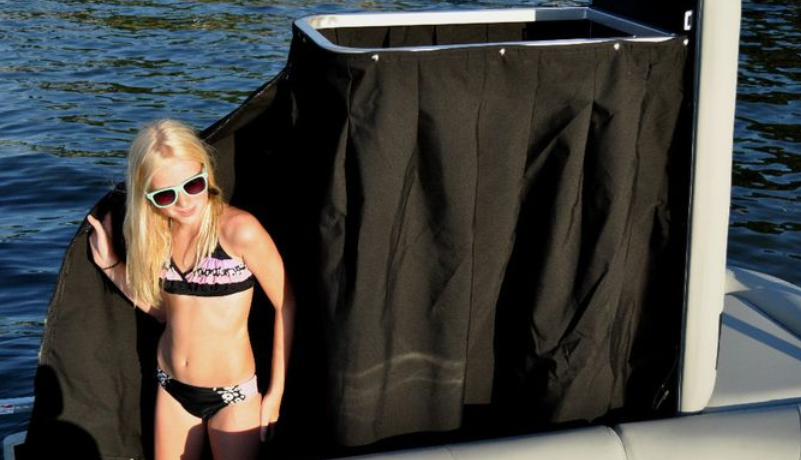 Pontoon Changing Room – Best Options Found Here
When on a pontoon boat, you may find yourself surrounded by guests and fellow passengers, and privacy may therefore be limited. If you're looking for a way to change comfortably, however, then you may decide to invest in a changing room. This is a worthwhile purchase, particularly if you and your guests intend to change regularly both into and out of swimwear.
In this instance, you may consider a collapsible changing room for your pontoon boat. This is a product designed specifically to give you a small, quiet space in which to change clothes—and is an excellent option even for pontoons with limited room. In the following article we will look, in detail, at a number of viable changing room options for you to consider. You may use these products as suggestions to follow, or as a measure of comparison for your own ideas.
What to Look For When Buying a Changing Room for Boating
When buying a pontoon boat changing room, there are a number of factors that you should consider. These are in addition to the common criteria that you should apply to each potential boating purchase, being: budget, personal preferences (color, design etc.) and ease of installment.
Size
Prior to purchasing your pontoon changing room, you should determine the size needed to accommodate both you and your guests. Consider the average height of the user, and how easily they will be able to access the changing room, or whether it will prove uncomfortable for them.
Mechanism
When purchasing your pontoon changing room, you should consider the mechanism used to install it. This means determining whether it uses a pop-up function, poles or is retailed as-is. This will help you save time and determine the amount of effort needed to prepare the changing room.
Pontoon Changing Rooms: In review
Below, we have outlined a series of reviews, detailing our favorite pontoon changing rooms. These are excellent examples of sturdy, reliable models that will fulfill their purpose with minimal involvement on your part. We encourage you to either use these as part of your research, or consider purchasing one outright, purely because we appreciate and respect your need for a high quality product.
In the interest of remaining impartial, however, we have listed both the pros and cons relating to each product. This is an important part of evaluating an item, and we encourage you to do so if possible, in the interest of acknowledging any potential deal-breakers or drawbacks before committing to a purchase.
Pontoon Changing Room Review #1: PARTYSAVING 6ft Portable Privacy
This pontoon boat changing room is an excellent option for those with taller guests to accommodate. It's 6ft high, and provides a roomy interior, fit for a variety of people. PARTYSAVING's pop-up changing room is collapsible, can be stored easily and features a zippered (and therefore closable) door.
What We Love:
The exterior of this changing room is made from waterproof polyester, meaning that it can withstand splashes while at sea and wet swimsuits left inside.
PARTYSAVING's pop-up changing room features weighted bags, stored discreetly inside, to ensure that this product doesn't fly away when in harsh conditions.
What We Don't Love:
The poles used within this product are somewhat weak, and when placed on hard ground, may cause bending or poor stability.
Pontoon Changing Room Review #2: GigaTent Pop Up Pod Changing Room
This popup pod from GigaTent is an excellent option for those looking for an easy, fun solution to their changing room problems. This tent uses a pop up mechanism, meaning that no poles are involved, and it is therefore incredibly easy to assemble.
What We Love:
This tent is very fast and easy to assemble.
The pop up pod is very lightweight, and therefore extremely portable, meaning that it can be moved freely and removed quickly.
What We Don't Love:
The pod is a little shorter than other changing room options, meaning that those taller than 5ft10 may struggle to stand upright inside of it (particularly for extended periods of time.)
Pontoon Changing Room Review #3: Super Buy Portable Pop Up
This versatile tent by Super Buy is an excellent collapsible changing room for your pontoon boat. It features a zippered door, a spacious enclosure and a comfortably high ceiling. It's made from durable polyester, and is generally designed to withstand rough usage, making it a great investment for you to consider.
What We Love:
This is a sturdy model, with stakes that can be driven into the sand or ground, in order to keep it upright in blustery conditions.
The material used in construction is hardwearing and opaque, meaning that you cannot see through it when someone is changing. This changing room therefore more than fulfills its purpose.
Pontoon Changing Rooms: In Conclusion
When purchasing a pontoon changing room, you should ensure that, above all else, the product has ample space and sufficient height to accommodate you and your guests. This will allow you to create a comfortable environment, where you can make the most of your time on your pontoon, without any cause for discomfort or concern.
The above products are recommended on the basis of ours, and other, reviews. However, so long as you shop according to your criteria, you should have no issue in finding the perfect product fit for your needs.