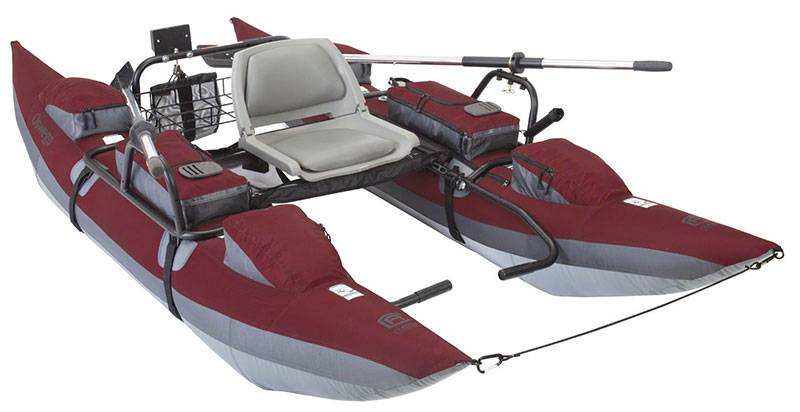 Classic Accessories Oswego Inflatable Pontoon Boat Review
Hit the water in style with a sleek, modern looking, durable, easy to maneuver  and fast pontoon boat of your very own.  When it comes to enjoying the waterways on your day off, nothing beats the versatility and flexibility of the Oswego Inflatable Pontoon Boat.
Offering a 10 foot pontoon capacity, this boat can swiftly move through the water, making it not only practical, but fun too!
Check price on Amazon
Top Features
The Classic Accessories Oswego Inflatable Pontoon Boat offers the following features:
10 foot pontoons which allow this boat to swiftly move through the water.
450 pound capacity
Class I River Rating
A large assembly size of  120" x 56" x 26"
Loads of storage
Multi-positions rod mount
Two micro-slit detachable foam fly patches
Two potion motor mount
Three oar-lock positions
Adjustable leg and footrests
Padded fold down seat
20 year warranty
Check price on Amazon
Best Things About It
There certainly is a lot to like about this boat. Here are juts some of the main things we loved about this model:
Storage. The Classic Accessories Oswego Inflatable Pontoon Boat certainly isn't short of storage space.  Featuring six oversized pockets; multiple mesh pockets and even two drink holders, there a place for everything here.
The 10 foot pontoons make this boat move fast through the water. Not only is this convenient – it's a lot of fun to drive.
Comfort Features: this boat is all about comfort offering multi-position oar locks; 6-position rod mounts, adjustable footrests and leg space as well as a padded seat.
Quality Construction: This boat is made to last, featuring heavy duty pontoons with abrasive resistant bottoms; cold and heat resistant bladders; bronze oar locks; PVC bottom and tightly woven tops.
Safety features. Keeping you safe is foremost in this manufacturing design offering hides rods to give you more visibility, slip resistant footrests and underrating stripping apron and fish ruler so you can remain clipped into the seat this boat is designed to make every trip a safe one.
But We're Not Crazy About
Although it comes with a pair of sturdy steel oars, this boat works much better when a trolling motor is installed. Since this is an extra cost, it should be considered when making your purchase.
With a mere 450 pound capacity, this is not a boat designed for larger sized men. Although sturdy, this is not a boat big men will be able to use.
Check price on Amazon
We Recommend It For
This is a wonderful fishing and recreational boat for both avid and recreational boater.  Most suited for smaller sized people (weighing less than 225 pounds).
Those with limited storage space. A compact boat that can be stored in a  small corner of the garage or even a closet, this is a great option for those living in small homes or apartments.
Anyone who wants the ability to enjoy  a day fishing without the expensive of a larger boat.
Not Recommended For
larger sized people. With  a limited weight capacity of only 450 pounds, this boat is not designed to carry two larger sized people.
Those with small cars. Although this boat collapses to fit in any small truck or SUV, it may not fit in a smaller sized vehicle.
Check price on Amazon
Review Summary
The Classic Accessories Oswego Inflatable Pontoon Boat offers hours of enjoyable fun on your favorite lake, river, or reservoir. Easy to assemble, and taking only about 10 minutes to make it water ready this boat is an excellent choice for anyone who wants instant access to water fun.
Offering the avid fishing enthusiast a sturdy boat that is designed with the comforts of fishing in mind, this boat  makes finding the perfect fishing hole quick and simple. Great for beginner's too, its easy assembly offers even inexperienced boating enthusiasts a way to hone their skills without a lot of hassle.
Our Rating:
Performance

Value

Features and Accessories

Quality

Use and Maneuverability
Summary
Get those poles back in the water with the Classic Accessories Oswego Inflatable Pontoon Boat.  It's a great way to escape without the hassle of taking out a larger boat and it's available at an affordable price. Read more reviews on Amazon.