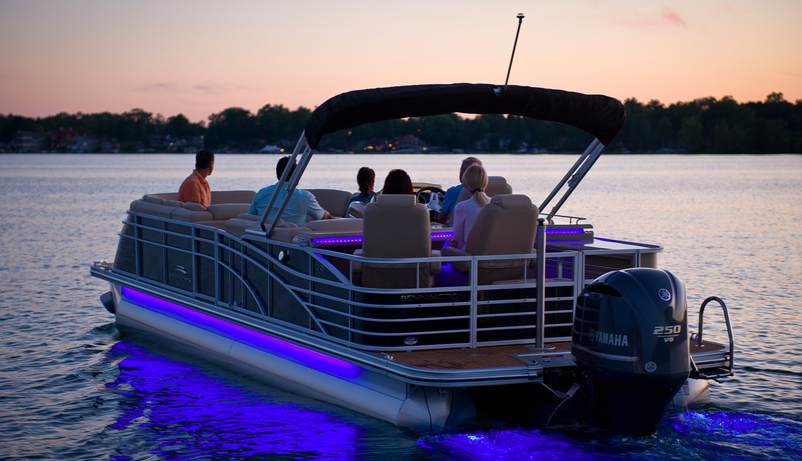 A Guide to Pontoon Lights: Reviews and Ideas
If you intend to sail at night, in the winter months or during periods where light and visibility are at their lowest—then you may require lights for your Pontoon boat. Fortunately, finding lights for your boat is relatively easy, and installing lighting presents itself as an excellent opportunity for you to decorate your boat if you so choose to.
Above all, however, you should treat lighting as a basic necessity. Having an adequate source of light can prove key to helping you navigate, and it will assist you in safely progressing across waters with more obstacles. It will also ensure that if the weather turns, and visibility is or becomes poor, then you are not unprepared and you are able to navigate back to safety. This is relevant for most boats but, in the following article, we will focus specifically on Pontoon boats—and the many reasons as to why you should choose appropriate lighting for your vessel.
What Lights Are Required On a Pontoon Boat?
As Pontoon boats are wider than the average boat and designed primarily for larger groups of people, the number of lights that should be installed will vary significantly from other vessels. Below, we have listed the most common form of lights required on a Pontoon boat and we seek to provide information surrounding their uses.
LED Navigation Lights:
Navigation lights are a basic requirement on most boats, including Pontoons. One of the most common forms of navigation lighting for Pontoons is bow lights. These are LED bulbs, encased in water-resistant structures that are installed on the bow of your Pontoon.
Underdeck LED Lights:
Underdeck lights are typically LED strips that are laid underneath the deck of your Pontoon boat. These are used both for functional and aesthetic reasons, and are typically made to be highly resistant to water, as they are essentially underwater LED lights.
Emergency Lights:
As Pontoon owners typically choose to invite large groups of people onto their boat, safety quickly becomes a priority, particularly if cruising takes place in the evening or throughout the night. For this reason, emergency Pontoon lights are a popular option. There are some LED lights that can be attached to handrails, or on the stern of the boat, in the interest of providing a safe and inviting environment.
Pontoon Boat Lighting Reviews
The following Pontoon lighting reviews were compiled in the interest of providing you with examples of products that meet the standards you should expect. The reviews below all concern themselves with different forms of lighting, and outline the pros and cons of each product. Ideally, when shopping for lighting for your Pontoon, you should critically analyze each option as we do below. This will help you determine whether the product is a worthwhile investment or a temporary solution.
Pontoon Underdeck Lighting Review: PerFit Under Deck Lights
This kit, retailed by PerFit features a harness; mounting equipment; several feet of LED lights and comprehensive instructions to facilitate the installation process for you. This is an excellent choice for those looking for underdeck lighting that is reliable, aesthetically pleasing and good value for money.
What We Love:
The track is easy to install, and the lights glide effortlessly onto it, making this a very user friendly product that will cause few complications for you—particularly during installation.
This is a very 'design-savvy' product that looks good on Pontoons, and will actually serve to enhance the aesthetic of your vessel.
What We Don't Love:
Some customers have reported that the instructions are a little difficult to follow, meaning that while this product is easy to install, learning how to install it presents itself as a more challenging task.
Pontoon Underdeck Lighting Review: RestorePontoon LED Boat Light Kit
This kit by RestorePontoon is an excellent choice for those looking for a very comprehensive lighting kit that will cover all bases, and provide a very user-friendly experience.
What We Love:
This kit provides a track, a mounting harness, a remote control and other accessories. This is almost unprecedented for Pontoon lighting, and a definite benefit, as customers can opt for a one-stop-shop of comprehensive lighting gear for their boat.
Thanks to the remote control, you can manipulate the colors and patterns visible through the LED light, making this a very attractive option for those looking to 'beautify' their boat.
What We Don't Love:
Overall, this is a very well received product with few bad reviews, and virtually no reason for us to be apprehensive about recommending it wholeheartedly.
This Navigation light by Attwood is an excellent safety addition to your boat, and one that sits firmly on the bow of your Pontoon. The main function of this product is that it helps you navigate in times of poor visibility, and this is an invaluable quality when at sea, particularly in unexplored or unfamiliar waters.
What we love:
For being navigational lights, these lights are surprisingly stylish, and do not typically interfere with the overall aesthetic of the boat.
The outer casing is made from high quality, durable plastic that is not damaged or corroded by saltwater—meaning that this product is designed to last.
The level of customer service is reportedly very high, and this company is very willing to assist with any problems or concerns that may arise.
What We Don't Love:
This product is somewhat lightweight, meaning that if you plan to sail in harsher conditions and your Pontoon may be prone to more intense movements, then this light may be liable to break more quickly.
How to Install LED Lights on a Pontoon Boat
Generally, most LED lighting kits are sold alongside a mount and tracks, as well as comprehensive instructions for you to follow. In a nutshell, however, the main steps for underdeck lighting consist of you mounting the harness underneath your deck; attaching your tracks to the harness and then mounting your lights onto the tracks. It's imperative that when mounting your lights, you do so with adequate strength and reinforcement, as well as by using all the tools outlined in the guide. The one situation that you should, at all costs, avoid is losing your lights mid-sail due to poorly reinforced tracks.
While the above information applies primarily to underdeck lighting, the theme is clear: in the interest of ensuring safety you should follow instructions and ensure that any lights installed are installed correctly. When installing lights on your bow, stern or handrails—you should also ensure that the product is compatible with the features of your boat and that the sizing matches appropriately.
Pontoon Boat Lighting: In Conclusion
In general, many boat owners seem to buy into the common misconception that Pontoon lights are purely decorative, and created for entertainment purposes alone. However, as we discussed above, there are certainly situations in which having lighting is not only helpful in terms of aesthetic—but critical to ensuring your safety as you navigate. We cannot underestimate the importance of equipping your boat with all the necessary safety measures, particularly if you intend to host others aboard, and therefore assume responsibility for their wellbeing too.
Pontoon Lighting is varied, at times costly and often difficult to choose between. If you find yourself struggling to decide, and need a little extra assistance, then the above article will hopefully help steer you in the right direction. Nonetheless, it's important that you conduct your own research, using your own measurements as a guide. This will help you understand which product is best suited to you specifically, and how you can make the most of your purchase.