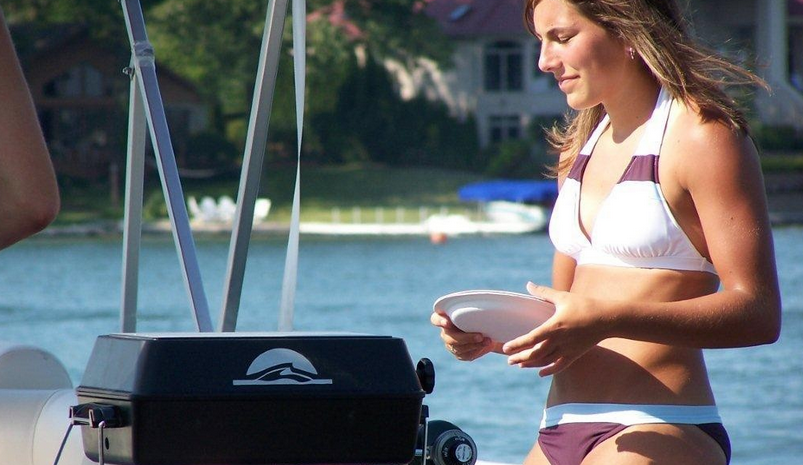 Best Pontoon Boat Grill Review
Grilling is one of the greatest pleasures for pontoon boat owners, and an excellent way to cook food when out on the open sea. However, when grilling food, both on sea and on land, there are certain expectations that should be met by your grill. Your grill should cook food evenly, thoroughly and to a sufficiently high standard. You should also expect your grill to be reliable, durable and safe for use on your pontoon boat.
In the interest of helping you find a grill with the above qualities, we've devised a guide to buying the best pontoon boat grill. This includes a set of examples, that will give you a means for comparison, as well as a series of unbiased suggestions for you to consider.
What To Look For When Buying The Best Pontoon Boat Grill
When buying a pontoon boat grill, you should ensure that it meets the following criteria. By comparing your grill to the brief list outlined below, you can guarantee that you're choosing the best possible grill for your pontoon boat.
Mount
Pontoon grills are available both with a mount and without a mount. Whatever you choose to use is entirely up to you, although we recommend that you decide what model you would like prior to beginning your search, in the interest of helping you narrow down your options.
Size of grill
When choosing your pontoon boat grill, as with any grill, you need to establish what size is best suited to the space available on your boat. In the interest of safety, you should ensure that your grill is small enough to occupy the available space without touching nearby, flammable objects.
Pontoon Boat Grill: In Review
With so many different grills available to consumers, choosing the best pontoon boat grill can prove challenging. For this reason, we've trawled through hundreds of products, and created a list of select items that were extremely well reviewed- and widely considered to be the 'best' on the market.
Pontoon Boat Grill Review #1 – Cuisinart
This portable grill by Cuisinart is an excellent option for those looking for a high quality, reliable product. Designed by the leading brand in cooking equipment, this grill features foldaway legs and a porcelain-coated grate, making it a very versatile grill.
What We Love:
This grill is large enough for you to cook up to 8 burgers, or 8 steaks, at once on its grate.
It features foldaway legs and a carrying handle, making it a highly portable option.
It features a 5,500 BTU burner- which cooks food quickly and evenly.
What We Don't Love:
The major downfall associated with this product is that you're required to buy a grill bracket, or mount, separately. Fortunately, however, you can purchase a separate bracket easily- for example by choosing Arial's Pontoon Bracket grill set. This set features 24 MINI disc cones, that are easy to use and quick to install, making it the perfect accompaniment to the Cuisinart grill.
Some customers have reported that the lock and handle are somewhat weak, taking away from the portability of this product.
Pontoon Boat Grill Review #2: Magma
This stainless steel grill by Magma is noted for being easy-to-clean and well suited to marine environments. It has a large, lockable lid that protects flames from the wind and a swiveling valve that allows you to fully customize the angle of your grill- two functions which are invaluable on pontoon boats.
What We Love:
This is a very basic model, that is easy to clean and easy to maintain.
The Magma grill cooks food evenly and thoroughly, making it safe for use and generally reliable as a means of cooking.
What We Don't Love:
This Magma grill isn't particularly resistant to rust, therefore in time you may find that the exterior corrodes and will need replacing.
Because the lid is hinged, this flame can die easily should a large gust of wind blow at your fire. This can prove somewhat inconvenient on gusty outings.
Pontoon Boat Grill Review #3: Magma Charcoal
A second grill by Magma is their classic charcoal grill, featuring a stainless steel exterior and an adjustable hinged lid. While the grill itself is not sold with a mount or accessories, Magma offers a wide selection for you to choose from, making this a worthy initial investment with ample opportunities for you to purchase extras as well.
What We Love:
This charcoal grill is made from an easy-to-clean stainless steel.
The grill features a draft door. This can also be used as a variable temperature control, giving you the option to fully customize your cooking experience.
The Magma charcoal grill offers ample space for two, meaning that you can cook meals for multiple people quickly and conveniently.
What We Don't Love:
This is an excellent grill, with few discernible faults. We recommend this product to those looking for an easy, convenient charcoal grill that provides all the basic amenities you would expect from a similar product.
Pontoon Boat Grill Review #4: Aussie
This high quality, stainless-steel boat grill by Aussie comes highly recommended by avid barbecuers. The grill features a large, 305 sq. inch cooking surface; foldaway legs and a lockable lid for storage. This is a very sleek, yet very sturdy option, perfect for those looking to invest in a longterm grill for their pontoon boat.
What We Love:
For being so large, this grill heats up remarkably fast, and cooks food very evenly in a short amount of time.
The Aussie grill can fit 8 to 12 burgers at once, depending on the size of the patty. Regardless, this provides an impressively large surface area.
This grill not only heats up quickly, but also to a very high temperature, ensuring that all meats and perishables will be cooked thoroughly and safely.
Pontoon Boat Grill: In Conclusion
As with any grill, finding the right product for your pontoon boat may prove itself to be a time-consuming task. However, you shouldn't the rush the process, and you should research each option thoroughly before committing to one.
With grills especially, you should put safety at the forefront of your search. Ensure that the products you consider are well reviewed and clearly certified, in some shape or form, for marine use. This will help you prevent any accidents, and will give you peace of mind as you enjoy grilling aboard your pontoon boat.