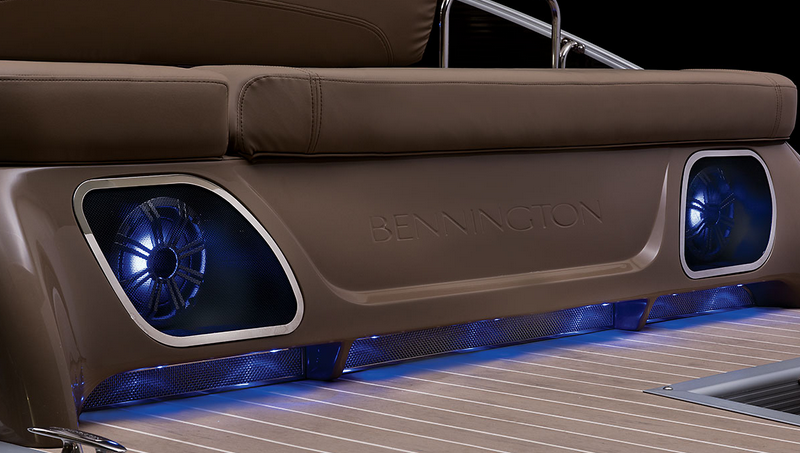 Best Pontoon Boat Speakers and Mounting Accessories
Chances are, if you own a pontoon boat, you own it primarily for pleasure. And as you cruise on your boat, you're probably looking to enhance your experience, by immersing yourself in total relaxation and uninterrupted entertainment.
One of the easiest ways to enhance your pontoon boat trip is with music, and specifically music through sound systems. While you can bring a portable device onboard, installing a marine grade sound system onto the boat itself can truly enhance your experience- and better equip you for long rides at sea, particularly when charging energy is in short supply.
For your convenience, we've compiled a detailed guide to shopping for boat speakers, and any mounting accessories necessary to the installation of the equipment. The reviews outlined below can be used as guidelines for comparison, or as a source of information to help you choose your product directly.
Buying Guide: What To Look For When Buying Pontoon Boat Speakers
When buying boat speakers, as with any product, there are certain considerations for you to make. When choosing your speakers and mounting accessories, you should follow a brief list of requirements, that will help you buy the best pontoon audio system for your boat.
Sound Quality
As with any sound system, when buying your pontoon boat speakers, you should ensure that they provide a high quality listening experience. This means checking the wattage power, and ensuring that the speakers have a minimum of 150 watts. While this can vary somewhat, it gives you a clear idea of what to look for when purchasing your speakers.
Mounting
When buying pontoon boat speakers, it's worth checking whether the system is sold alongside mounting accessories, or whether you have to purchase them separately. This is particularly relevant for pontoon boats, where mounting the system onto the boat may require special equipment or instructions, and having these clearly outlined by the speaker manufacturer may make the process somewhat easier for you to complete.
Resistance To Water, Corrosion etc.
While you would expect all boat speakers to be sufficiently resistant to water and corrosion, this isn't always the case. For this reason, we encourage you to check that the product states (explicitly) that it features both waterproofing and anti-corrosion measures. This is essential to ensuring that your product will function properly in a moist, salty environment- and that it won't corrode or malfunction when exposed to water.
In general, we find that companies will advertise these measures willingly, so if waterproofing isn't listed on the product description, then it's certainly worth inquiring to ensure that it is present on the product itself.
Sound Systems For Pontoon Boats Review
As firm advocates of buying only the highest quality products available, we take our research very seriously. Below, we have listed a select number of products that we feel reflect the standards you should expect from your audio system.
You can use each of these reviews as examples of the type of speakers you should be looking for, or as suggestions for products that you could consider in your search for the best pontoon speaker system.
Pontoon Boat Speaker System Review #1: BOSS Audio
This speaker system by BOSS audio is retailed at a remarkably low price. The cost, however, does not denote the quality of the system- and these speakers have proven themselves to be both an extremely durable and reliable option for you to consider.
What We Love:
The BOSS Audio speakers are 'weatherproof', meaning that they are not only resistant to water but also to corrosion.
They have a maximum 150 watt handling power, which is remarkably high for a product this cheap.
They provide easy-to-use mounting holes, that require basic screws and very simple methods of installation.
What We Don't Love:
They provide high, but not quite the highest sound quality available. They are therefore best suited to those who don't listen to their music very loudly or with lots of base.
Pontoon Boat Speaker System Review #2: Pioneer
This set of marine speakers by Pioneer was specifically designed to provide boat owners with the highest quality sound system, in volatile nautical environments. The speakers provide all the features necessary to ensuring that your sound system is well protected when at sea. They also have a specification created with the intention of providing you with a truly high quality sound experience, regardless of your environment.
What We Love:
This product is highly resistant to not only water, but also corrosion and heat- making it a suitable option for those sailing in harsher climates.
When paired with an amplifier, this product emits an impressively high quality sound, that rivals some of the most expensive marine speakers on the market.
The Pioneer speakers feature innovative, protective grills that encase the inner workings of the speaker and ensure that the product lasts as long as possible.
What We Don't Love:
The mounting holes are slightly smaller than average. Therefore when buying this product, or any product listed in our reviews, you should measure the diameter of your screws in order to ensure that the two sizings are compatible. This will help you avoid the hassle of returning your product, or opting for a different mounting technique.
Pontoon Boat Speaker System Review #3: Pyle Dual 6.5
Pyle Dual 6.5 features a plastic grill; a water-resistant casing and a set of mounting accessories. This is the ideal option for those new to pontoon boat speaker systems, looking for a quick and easy product to install, that also features provides a high quality sound system and impressive listening experience.
What We Love:
This product includes mounting hardware and accessories, meaning that you can install it within minutes of receiving it.
It has an impressively high power of 225 watts.
This set of Pyle speakers feature a weather and water resistant coating, meaning that they won't corrode in marine environments.
What We Don't Love:
The Pyle mounting equipment isn't of the highest quality. Some users have reported rusting screws and a general wear-and-tear in terms of mounting accessories. This can easily be resolved by replacing the mounting equipment (should it break) with a differently branded product.
Pontoon Boat Speaker System Review #4: Polk Audio
This set of speakers by Polk Audio is very versatile, and can be installed onto boats- as well as cars and other vehicles. It is, however, a marine certified product guaranteed to work on your pontoon boat. This product is also sure to provide you with an impressive sound experience, particularly when you consider its remarkable specification and high power wattage.
What We Love:
The speakers have an impressively high power handling of 120 watts per pair.
They are marine certified, and therefore water resistant.
The Polk Audio speakers provide a great component speaker, with excellent tonal balance, making the sound quality very high.
The system as a whole is very easy to mount, and the rubber encasing makes it a very durable product.
What We Don't Love:
The product itself is not waterproof, only water resistant, meaning that exposure to large amounts of water may cause the speakers to break or become damaged.
They are not the most energy efficient speakers, and consume lots of energy in order to provide high quality.
Pontoon Boat Speaker System Review #5: Infinity
This speaker system by Infinity offers an astoundingly high handling power of 225 watts, and the difference in quality is notable. This is a very impressive speaker set, that will fill your pontoon boat with tonally balanced sounds, rivaling some of the most expensive sound systems on the market.
What We Love:
This speaker set by Infinity is waterproof, meaning that it's more than just resistant to water. While the product should not (at any cost) be submerged underwater, you can rest assured that spray and droplets will not put this audio system at risk.
The product is retailed alongside mounting accessories, including metal clips for fiberglass, making this an incredibly easy set to install.
What We Don't Love:
This speaker system is somewhat larger than the average marine speaker, so you should be wary of this before you purchase, and ensure that the dimensions fit the sizing on your boat.
Likewise, mounting holes with this product don't often correspond with mounting holes from other systems, so be prepared to drill new holes and make adjustments.
Pontoon Boat Speaker Systems: In Conclusion
The easiest way to ensure that you're purchasing the best pontoon boat speaker system available, is to ensure that you choose a company that puts quality at the forefront of their business. By choosing wisely, and responsibly, you can avoid problems in the longterm, and guarantee yourself a satisfactory experience.
The above brands are mere examples, which you can draw from or use directly. They represent companies that value their customers, and this should be (first and foremost) your priority when purchasing pontoon boat speakers.