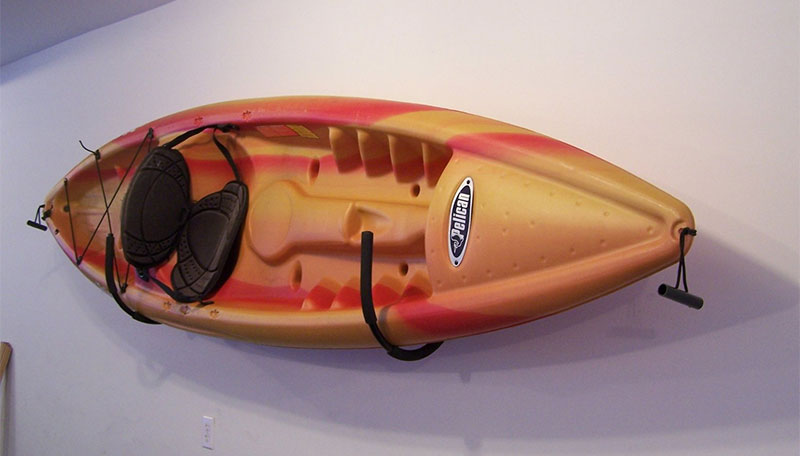 Kayak Storage Systems: How To Store A Fishing Kayak
When you are deciding how to properly store your new kayak, there are several storage options to choose from. Your method of choice will depend on your available area for storage. Whether you will be using it again on the up coming week end or further down the road, proper storage ensures it will be ready to go when you are. After spending the day enjoying the water, fishing, and exploring new places you will undoubtedly be tired. An easy storage method allows you to relax and unwind quicker. Let us help you determine the best way to store your yak and give you our editor picks for the best kayak storage systems for the money right now. We've compared all the top rated kayak storage systems to help you find the best models on the market.
Top 10 Best Indoor Kayak Storage Systems for the Money (2016)
our rating is based on performance, ease of installation, and value
Factors To Consider
Whether you are storing your kayak in a garage, carport or just outdoors, there are important factors to consider within each location.
Indoor vs Outdoor Storage
In order to protect your new kayak from the sunlight or other weather elements, indoor storage is recommended. If you don't have an indoor storage area, providing a protective cover reduces deterioration. Make sure your cover is waterproof and mildew resistant. Before placing the cover over your kayak make sure you remove all cushions. Seat cushions provide an inviting spot for small rodents to nest.
Pre-Storage Tips
Before storing your kayak, wash it thoroughly. When you return from fishing in saltwater, take extra care in washing your boat. Salt water can be especially degrading to the hull materials and cause corrosion to any metal parts. Just use a boat wash and water to remove dirt or salt, wipe it off and let it dry completely. This not only protects your kayak from erosion but it reduces any unnecessary wear on rudder cables. Taking a few minutes to apply a protective UV product after washing will extend the life of your new boat and keep it in good condition. Your kayak doesn't really get much exposure to the sun when in the water, it's when it is stored that the major amount of UV damage occurs.
Storage Positions
Two of the important things you need to take into consideration are the conditions of the storage space and the position of the kayak. For conditions, the least amount of warmth and sunlight is best, to protect from warping. For positioning, storing upright is most desirable, but not always feasible.
Storing your new kayak upright is considered the best overall position. It prevents uneven stress on the hull. Make sure the hull is firmly supported, with the stern end down. Stress on the hull causes warping. Over an extended period of time, warping will be detrimental to the use of your kayak. Keeping your kayak off the hard cement floor is very important with this type of storage. If your garage doesn't have the required height to accommodate storing the kayak upright, there are other options to consider.
The strongest part of a kayak is it's side. So, storing it on it's side will take the weight off the hull.
Types of Storage
The three main ways of storing a kayak are on a rack or stand designed for this purpose, or in a hoist that you mount from the ceiling of your garage or other space.
You can easily build a freestanding kayak storage rack using PVC piping.This rack will keep your kayak safe and secure off the ground, positioning it properly to avoid hull damage. Storing on a rack ensures it won't get accidentally bumped or knocked over.
If you have purchased more than one kayak, a kayak stand is a great way to organize. A stand will keep all of your kayaks in one spot safely stored for their next adventure!
Hanging your kayak from the ceiling for storage keeps it up and away. If you use this method, don't hang the kayak from the handles, this will also put unnecessary wear on the hull. Hanging storage is ideal for "cradling" your new kayak, keeping the weight balanced equally. This method is especially effective in long term storage, but an easy, out of the way method for short term storage as well.
Wall mounts or wall slings are another excellent choice for storage, especially when you have little floor space, but plenty of walls. Wall mounts can easily store your kayak on its side. They have protective padding to avoid scrapes and scratches when removing from or returning your kayak to storage.
Storing your kayak for transporting to your favorite fishing spot can either be on top of your vehicle, or in the bed of your truck. Roof racks are readily available and safe to use. Ratchet straps are very useful in securing your kayak, both in storage and in transporting. Carefully adjust the tension in the straps so the stress is evenly distributed.
The main concern when storing your kayak is to avoid warping of any kind. The thin layer used in designing a kayak makes it more susceptible to this damaging deformation. So, properly store it with that consideration in mind and you will enjoy many exciting years of fishing with your new kayak!
Our Indoor Kayak Storage Systems Reviews
We've selected a few of our favorite storage options from the list above and want to give you a bit more information on why we recommend them. Keep reading for some mini reviews on kayak storage options for your yaks.
Suspenz Big EZ Kayak Rack Review
Like your personal watercraft a little on the big size? The Big EZ rack by Suspenz cradles your canoes, stand-up paddleboards and extra-wide kayaks, keeping them off the ground and secure when not in use. The nylon-coated foam-padded rack holds the watercraft securely in place using sturdy, adjustable safety straps. It works alone by attaching it to a standard, supported indoor or outdoor wall, or can be used as part of a Suspenz Free-Standing Storage System.
click here for more info on Amazon
Pros: Solid weight capacity of 150 pounds, customizable spacing, extends 28 inches from wall, powder-coated steel frame
Cons: Slight fading and chipping when used outdoors
Harken 4-Point Kayak Hoister System Review
The Harken 4-Point Kayak Hoister System provides a great way to lift and store a kayak in a home garage or storage location with very little effort and far less hardware and work one would have with a regular metal rack or ceiling shelf system.
click here for more info on Amazon
Pros: Lifting a kayak from four locations, the boat is kept stable and has little swing, and stores out of the way when lifted close to the ceiling, providing plenty of room to park below.
Cons: The limitations of the system is that the ceiling height should be at 10 feet or thereabouts for optimum use. There should also be sufficient anchor points for the four connections and pulleys involved.
Pack 'Em Wall Mounted Kayak Rack Review
Own a kayak, but can't figure out how to store it? Don't leave it lying around, hang it on this fold-away kayak rack instead. The large J-style hooks keep kayaks up to 13 inches deep neatly secured, and they fold flat when you aren't using them. You can easily load and unload your kayak with no problem making a day out on the water easier. Install this rack on the dock, in your garage or anywhere with solid mounting material.
click here for more info on Amazon
Pros: Folds flat, fits kayaks up to 13 inches deep, made of strong steel, padded hooks to protect against damage
Cons: Mounting hardware is not included
Malone Auto Racks FS 3 Kayak Storage Rack System Review
For those who have the space in a garage or storage area, the Malone Auto Racks FS 3 Kayak Storage Rack System provides a horizontal racking approach to kayak storage, providing storage for up to 3 boats on the same footprint.
click here for more info on Amazon
Pros: Powder-coated, the rack itself is well-suited for indoor or outdoor use, and holds up to 250 lbs of combined weight. Further, the Malone Rack System is backed up by a lifetime warranty, creating great long-term value for the expense and benefits delivered in kayak storage.
Cons: The package, however, typically comes with included racks for only 2 boats.
Rage Powersports Ceiling Mount Kayak Storage Hoist Review
Tired of struggling to hoist your kayak or canoe into its storage space in your garage — or dodging it every time you try to get out of your car? The Rage Powersports Ceiling Mount Kayak Storage Hoist can help free up garage space while making it a breeze to transfer your watercraft to and from your vehicle's roof rack.
click here for more info on Amazon
Pros: Heavy duty steel construction, can handle boats weighing up to 100 pounds, easy maneuvering of the hoist mechanism.
Cons: Installation can require you to drill into your garage's beams, recommended 36″ to 42″ clearance may not provide enough room to park vehicles.