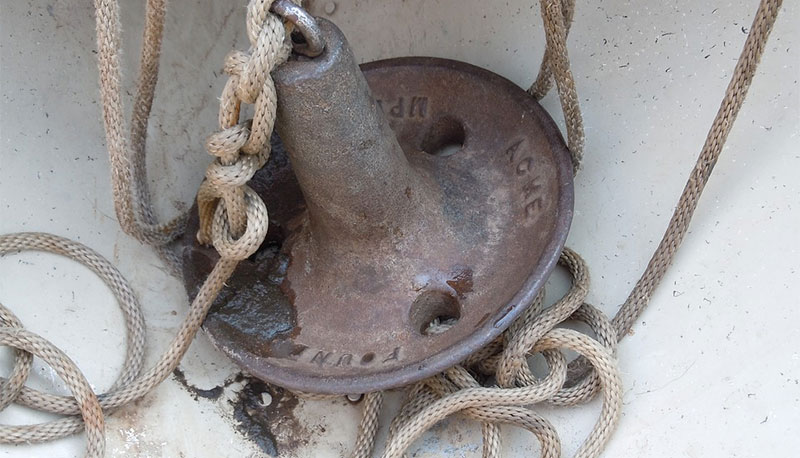 Finding The Best Anchor For Pontoon Boats (For Any Conditions)
Whether you are taking your pontoon boat out fishing or just to do a bit of swimming in the lake, you'll want to make sure that you have a good anchor for your pontoon boat so that the currents won't carry you away. While any type of large pontoon boat is susceptible to drift due to the currents, this is especially a problem with the more lightweight inflatable models. So, if you're ready to add a quality pontoon boat anchor to your arsenal, then let us give you some tips to ensure that you end up with on that will actually work for your boat so that you don't drift.
Top 10 Best Value Pontoon Boat Anchors For The Money (2016)
our rating is based on performance, quality, and value
3 Main Types of Anchors
If you head out to your local marine shop, then you will quickly notice that there are a lot of good pontoon boat anchors on the market. And among all those models, you can find a few different types of anchors. It is important to know how these types differ so that you purchase the one that best meets your boating needs.
Fluke Anchor
This type works best when the bottom is sand or gravel. It works to keep you secure and from drifting with arms that penetrate the bottom and really clamp down. That secure hold is exactly what you need to keep the boat steady.
One thing that you will want to note about this type is that it generally doesn't need to be all that heavy in order to work as expected. For instance, it is common for a lightweight 15 pound model to be able to securely anchor a large 30-foot pontoon boat in calm waters, or a 24-foot pontoon in rougher waters. Pretty cool, huh?
When you compare fluke anchors, remember that you focus on size instead of weight. The weight primarily holds the anchor and drives the arms into the bottom, and holding the vessel is really only a secondary function of the weight. Also keep in mind that different bottoms will require different weights, for instance more weight is needed for sand than for a muddy bottom.
Recommended fluke anchor model: Fortress FX-16 Anchor
Box Anchor
Since most people take their pontoon boats out onto rivers and lakes, this will be the most commonly used type of pontoon boat anchor. It excels in water with muddy bottoms or those that have some light vegetation on the bottom. Box anchors secure their hold on the bottom by taking up as much space as possible on the bottom to grab a secure hold.
A tip for using this type of anchor (and all anchors, really), is to make sure that you have enough line for it to do it's job. If your line out just isn't enough, then the parts of the anchor won't be able to achieve the correct angle that is required for a firm hold on the bottom. A good rule of thumb is to give yourself five times more line than the water is deep. So, for water that is 25-feet deep, give yourself 125-feet of line out.
Recommended box anchor model: Slide Anchor Large Box Anchor
Grapnel Anchor
If you expect to take your pontoon out where there will be rocky bottoms, then this is definitely the style of anchor for you. In fact, this is really the only style of anchor that you can use in rocky bottom conditions cause no other type will work for you.
It works by grabbing and holding onto the rocks with its arms. Typically this type of anchor has four arms that do the securing for you. You can expect the most firm hold from this type compared to all the others, but it will take some drift before it actually catches a rock and secures its grip.
The main benefit of this style over the others is that it is much smaller when folded up for storage than the other models. So, if space is limited on your boat, then you will really appreciate how compact this type of anchor is when ready for storage.
Recommended grapnel anchor model: SeaChoice Folding Grapnel Anchor
Best Inflatable Pontoon Boat Anchor System
If you are going out on the water in one of the inflatable 'toons, then you might be wondering if you can just buy an inflatable pontoon boat anchor kit. The answer is: Yes! In fact, there is one specific kit that we recommend that will work for pretty much any inflatable 'toon on the market. It's the SeaEagle Mushroom Anchor Kit with Cleat.
This inflatable pontoon boat anchor system kit includes:
25-foot long bit of 5/16″ rope
Anchor grip (to hold the rope in place)
8 lb. PVC coated Mushroom Anchor
Click here to view on Amazon
This is our favorite option for the boating enthusiasts who just want to buy an all-in-one anchor kit.
Setting Your Pontoon Boat Anchor
Now that you're ready to go out and buy yourself a new anchor for the boat, you might be wondering the best practices here. Like, how to anchor a pontoon boat and where to tie the anchor on a pontoon boat. Right? Well, let us give you the basic steps of anchoring a pontoon boat so that you'll know what to expect out there.
Find a place where you want to anchor the vessel and point your boat so that it is heading into the current or wind (pick the stronger of the two).
Determine the depth of the water where you want to anchor so that you can calculate how much line out you'll need for the anchor to get a firm grip. This is very important because people have actually capsized their boats when they don't have enough line on their anchor.
Put the boat's engine in idle so that you end up stopping with the bow just ahead of where you intend to drop the anchor.
Secure the boat's anchor to the cleat at the point of the line where you will want it to stop and slowly release the anchor into the water. Don't toss it because the line can tangle. The slight drift of the boat in the current will help the anchor sink and take hold on the bottom. If your boat isn't moving, then you need to put your engine in reverse and start slowly moving forward as you release the rode. You have to do this because the line will pile up in one place on top of the anchor and it won't take hold if the boat is stationary. And don't forget to keep tension in the anchor rode.
When your boat is at the spot where you want to be anchored, take the rode and then wrap it around the cleat twice. You will feel the anchor dig into the bottom. When this happens, you have to then have the engine in idle reverse so you can back down on the anchor to secure it to the bottom. Ensure you don't drift by taking stock of landmarks and then periodically checking them as you're anchored.
Vertically lift the anchor when you're ready to leave the spot. Take a moment to wash off any mud or other debris.
When you're done being anchor, you'll want to store it and the rode out of the way no that no one gets hurt by tripping over it. Pontoon boat anchor storage is a common topic amongst boaters because there isn't really universal storage box or method. If you have one of the small folding anchors, then you can probably just tuck it under a seat or in a cubby. Other pontooners use plastic buckets or canvas bags to store their anchors when not in use. So, just find something that works well for you and your boat since every boat has different available storage space on it.