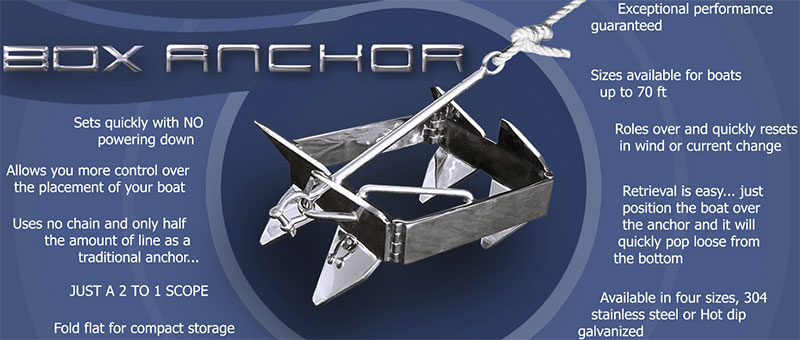 Slide Anchor Large Box Anchor LBA Review
Getting the anchor to set within a reasonable amount of time becomes considerably easier with the Slide Anchor Large Box Anchor. Currents and wind no longer win the battles for a good set on the first try. Because of the unique, innovative design, you need only toss the anchor overboard and watch how it sets within one foot of its landing spot. Its weight allows for use without a lead chain  and its design requires less line, too. Getting a quick grip without all the maneuvering means you get to spend more time fishing, swimming or partying.
Fellow boaters will love that you have a Slide Anchor Large Box Anchor because they can tie to your 40-foot boat and enjoy the stable set you so easily achieved. With the square sided, box-like design and downward facing flukes ready to bite no matter the bottom conditions, you can stay in place with almost no work. Then, when you're ready to retrieve the anchor, you simply pull on the line to draw your boat along until you're over the anchor then drag it up. It releases like a dream. There will be no need to deploy your angry "nautical terms" because the struggle with the anchor is a thing of the past with the Slide Anchor Large Box Anchor.
View Price on Amazon
Top Features
Stainless steel or hot dipped frame for years of corrosion resistance
Stainless steel hinge pins
Stainless steel return spring and nut
25 pounds to enable use without lead chains
Square, box frame with hinges for folding flat when not in use
Removable stainless steel stabilizing arm to hold the anchor open and square for use
Stores flat so it won't hog your storage space
Comes with ventilated storage bag so flukes and hardware can't get caught on the rest of your gear
Eight angled flukes on the box sides so anchor can grip again once it rolls over
Designed to flip over and re-set when currents move the boat
Designed to need only 2 to 1 scope which uses less line to keep the boat in place
View Price on Amazon
Best Things About It
No need to power down to set the anchor
No need to work the boat into position to set the anchor
Weighs only 25 pounds as opposed to anchors designed to work mostly by their weight
No need for lead chains since the anchor lands on edge and falls to the side with the tug of the line
2 to 1 scope keeps the boat closer to the anchor
Sets in any bottom condition
Sets within one foot of drop location
Rolls over and re-sets itself when the boat drifts
Keeps a strong hold even with other boats tied to yours
Strong currents can't prevent a good set
Holds in strong winds
Easy retrieval. Simply pull the line until the boat is over the anchor, then haul it up.
Folds flat for storage
Comes with its own storage bag
Comes in either stainless steel or hot dipped galvanized for long life in and out of the water
Fixed scoop design. The flukes are welded in place to enable a quick grab
Sturdy and durable for years of use
We're Not Crazy About
The price
A little heavy for smaller people to use
Mud can hold on to the flukes making it heavier when retrieving
The stabilizer bar can be difficult to remove
Even folded flat, it takes up more room than preferred
View Price on Amazon
Recommended For
Any type of bottom, from sandy, clay, muddy, rocky, weedy and one with a lot of debris
Boats up to 40 feet
Use in strong currents
Use in shifting currents
Use without a lead chain
Use with only half the line of a traditional anchor
Not Recommended For
Small storage spaces
People who would struggle with 25 pounds to lift, toss and pull up
View Price on Amazon
Review Summary
The Slide Anchor Large Box Anchor is one truly great design. In the midst of the vast array of anchor styles and brand designs on the market, this one actually works as advertised. While results were improved with the use of a lead chain, in most conditions a chain seems superfluous. Because it works at a 2 to 1 scope, needing less line is a big plus. It certainly saves time on retrieval. Retrieval is easy. Just grab the line and pull your boat until you are right above the anchor. Because the flukes are angled and not parallel with the bottom, and the thin side panels are perpendicular to the bottom, sand, mud and debris mostly slide off so they don't weigh down the anchor. The most desirable feature of all is that your boat can drift over the anchor, and you don't have to power up the boat to reposition for a new anchor set. The box anchor has flukes on both edges of the side panels so once the boat pulls it upright as it floats in a different direction, the anchor will roll to its other side and the downward facing flukes will grab the bottom again within a foot.
Our Rating:
Summary
The ease of use and effectiveness of this anchor makes it well worth the hefty price tag. Besides, considering how much you spent buying a boat, why put yourself through the aggravation of trying all the other less expensive and less effective anchors before you settle on the best? Read more reviews on Amazon.