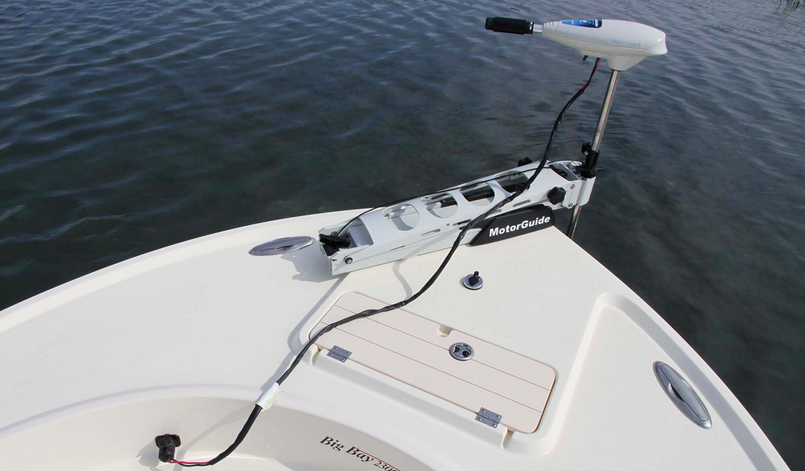 Best Trolling Motor for Pontoon Boat to Help You Catch More Fish
A good quality trolling motor for pontoon goes a long way in helping you catch more fish when you are out. Coupled with the best fish finder that we have reviewed, you can be looking at getting more out of every single fishing trip.

For those who like to fish in a pontoon boat, you will need a more powerful trolling motor that is also quiet. Below, we are recommending two such models for you to consider. We made wrote a comparison section to highlight out the main difference between the two. Enjoy the read!
Minn Kota

trolling motor review – best trolling motor under 1000
For pontoon trolling motor review, one of the best value for money model is the Minn Kota, even though it costs more than its competitors such as Newport Vessel. However, you get what you paid for. This motor is not lacking in the power department as it can easily push a 18 foot pontoon with ease into the waters. It is also a ultra quiet trolling motor so it is ideal if you are into lake fishing.
Battery life on this Minn Kota trolling motor is incredible. I had it on for maximum speed for 6 hours and the battery still had more than 50% of its power remaining by the time I was done. I would say the battery life is probably the best for trolling motors under $1000.
Protip: When doing the installation, remember that you need a 60 amp fuse to mount the motor successful to the pontoom.
The only small thing that I feel can be improved is the wiring instructions. There isn't much detail from what the manufacturer provided so you need to figure things out by yourself. Also, note that you need at least 6mm heavy gauge wiring but the Minn Kota trolling motor doesn't take thick wires well so you will need an adapter.
Newport Vessels

trolling motor review
One of the best pontoon trolling motor in its price range. The engines of the Newport Vessel 55 pound motor are powerful with 8 speeds that you can control, although there are is an issue with its speed visualisation which I will discuss later. More power means you can extend your fishing range since your normal boat or inflatable fishing boat can now cover more distance. In my own experience with a fishing kayak, I can now do 7 to 8 knots after replacing the old motor with this new one. For comparison sake, the old model only allows me to hit around 3.5 knots on average.
There is also a more powerful model of this trolling motor that I tested on an 18 foot pontoon boat. The result was that it pushes the pontoon forward like a breeze. In fact, you can easily hit double digit miles per hour with this motor. The price of the powerful version is of course much higher than the
Mounting and installing this motor is easy enough so it shouldn't take more than 30 minutes to get going. The mounting bracket isn't the best in the world so I recommend that you purchase the MinnKota MKA-16 02 Aluminum Quick Release Bracket Mounts.
Mini quick release trolling motor bracket review

It is much more secure than the version that comes with the motor and it has a quick release feature that makes mounting the motor very simple and efficient. Because the mounting becomes easier, you will be more motivated to release the trolling motor when not in use and stored in a safer place, rather than leaving it on the boat. I would recommend the MKA-16 if you are looking for a quick release trolling motor mount
Another benefit is its light weight. You can carry it to your boat very easily which saves the trouble of needing to find a trolley or a cart to move the motor in. It is also very quiet, thus making the boat trip a less noisy one.
Despite its great performance, there are some small nitpicks that you should be aware of.
First, it is not clear which setting you are on because the indicators are not clear. Although you will get used to it over time, this issue can be and should be rectified.
Second, the motor might not be the smoothest in the world when you can changing speed. Again, not a deal killer but something that you might need to take note in case you think this is due to some engine fault.
Newport Vessels trolling motor vs Minn Kota
Now that you have read the reviews of these 2 brands, how do they stack against one another beyond the price?
Display: as mentioned above, Newport Vessels's display of power setting isn't as clear, especially when compared to the Minn Kota. This issues extends to the click sound that you normally hear when you you change selection. For Minn Kota, it is very obvious that you have changed settings based hearing the click but it isn't obvious at all with the Newport Vessel
Noise: The Minn Kota is definitely one of the quietest trolling motor and is quieter than than the Newport Vessel
Battery meter: The Newport Vessel comes with it but not the Minn Kota. However, there was an online review that says the meter is not functionally properly as it doesn't show any significant decrease even after using the motor for a few days.
Remote control trolling motor for pontoon boat
In terms of accessories, I would say Minn Kota CoPilot System is one of the best items to get if you are buying the Minn Kota trolling motor. With this small device, you can now control the direction and movement of your Pontoon via a few simple button presses.

The best benefit of this is that you no longer have to stay seated in the boat with the foot on the pedal. By hanging the remote control trolling motor around your neck, you can go anywhere on the boat and still be able to control it with ease. You cannot believe how much convenience this will create your boating trip, not to mention how much fatigue it saves your foot from!
Another benefit is that you can exert a greater degree of control via the button presses on the remote control vs your foot pedal. If you install this, you will be able to tune your direction more finely than ever before and is great when you are maneuvering along a narrow river.
Overall, this remote control is such a great product that you might never want to go back to a foot pedal again!
Conclusion
Using your pontoon boat for fishing is always going to be enjoyable. Now, with the right trolling motor, you will go to get more range and less disturbance on your fishing trips.