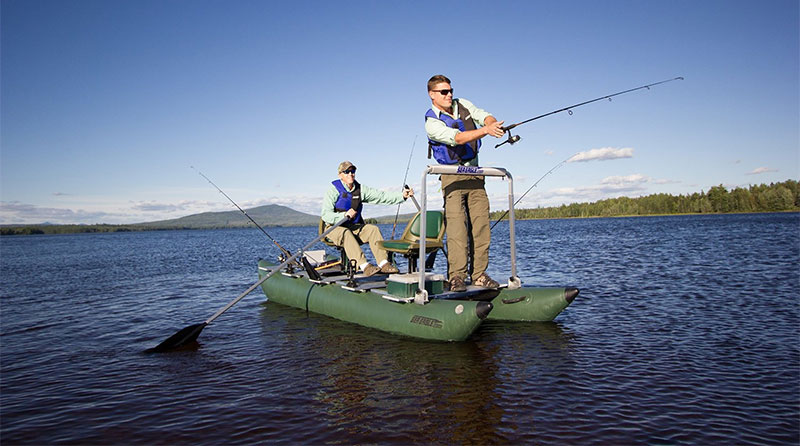 Sea Eagle Green 375FC Inflatable FoldCat Fishing Boat Review
Whether you want to strike out on the river looking for trout or simply crave scouting out a quiet little fishing hole where you can relax, the Sea Eagle 375C inflatable FoldCat Fishing Boat is a flexible option that can get you on the water quickly and with little work.
This versatile inflatable fishing boat works well in reservoirs and marshy areas, offering easy maneuverability and a sturdy shell that will last for years.
Lightweight, portable and fuel efficient, the Sea Eagle 375C inflatable FoldCat Fishing Boat is an excellent choice for both the serious fisherman and those who simple want to enjoy a sporadic afternoon with a rod in the water.
Check Price on Amazon
Top Features
The Sea Eagle 375C inflatable FoldCat Fishing Boat offers the following features:
NMMA Certified
Patented Folding Frame
Super strong oars & oarlocks
Motormount for gas & electric motors
Rugged molded nose cones
Full fabric floor
Multi position rod holders
Check Price on Amazon
Best Things About It
This boat is extremely easy to set up. Its patented folding frame makes it fast and easy to assemble, with total assembly (with inflation) taking less then 10 minutes.
Measuring 12' 4" x 4' 6", this boat offers a large platform that can easily accommodate two full sized adults and about 650 pounds.
Its sturdy 1000 denier reinforced frame and quadruple overlap seams makes this inflatable boat one of the strongest and long lasting on the market
The new dark green coloring allows this boat to blend into the water, keeping fish calm.
Weighing only 75 pounds, this boat is easy to transport.
With a compact deflation size of only 56" x 21" x 10" this boat can be transported in almost any vehicle – no trailer needed!
The carry-all storage bag and multiple handles makes it easy for anyone to carry from the car to the lake.
But We're Not Crazy About
The price is a bit steep on this boat compared to similar models.  Since the price runs about one-third higher than its competitors, this is not a boat for everyone. While you do pay for quality here, the price will keep many buyers form considering it.
Although there are quite a few accessories that can be added to this model, the boat itself comes with few extra features.
Check Price on Amazon
We Recommend It For
Serious fishermen who know what they want in a fishing boat.
Those who can not afford a standard fishing boat. This inflatable alternative can made the dream of owning a quality fishing boat a reality for many.
Those who do not have towing ability on their vehicle. Since this boat can be broken down and stored in a standard trunk, there is no need to own a trailer with you.
Limited Storage Space. If you don't have a large garage or storage unit, this boat is for you.  Able to store in a corner or closet, the Sea Eagle Green 375FC Inflatable FoldCat Fishing Boat is a good option for apartment dwellers who crave the great outdoors.
We Don't Recommend It For
Those on a tight budget. If you don't have a good amount of money to spend on a boat, this one isn't for you.  There are some other nice boat models s that can meet your needs at a better price.
Check Price on Amazon
Review Summary
Although the price may be a bit higher than other compatible boats, the Sea Eagle Green 375FC Inflatable FoldCat Fishing Boat does offer superior craftsmanship, making it much easier to accept the price. If you are an avid fishing fan who wants a boat that you can rely on this model may be the perfect option.
Our Rating
Performance

Value

Features and Accessories

Quality

Use and Maneuverability
Summary
If you love to fish and want a versatile boat that is lightweight, portable, fuel efficient and does not need a trailer to transport it, this boat is an excellent option. This sturdy, well crafted model is deigned to offers hours of fishing fun on any lake, river, reservoir or marshy area. Read more reviews on Amazon.