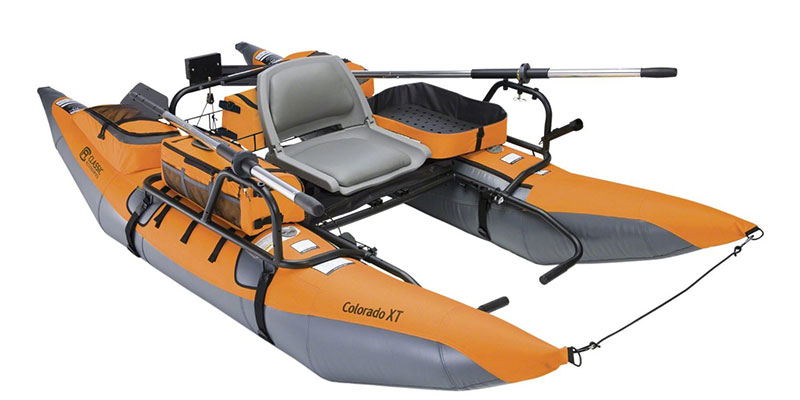 Classic Accessories Colorado XT Inflatable Pontoon Boat Review
When it is time to hit the water for a relaxing day with a pole in your hand or trolling the region's most beautiful waterways, the Colorado XT Inflatable Pontoon will get you where you want to be.
Offering a full boating experience, this relatively inexpensive pontoon is sturdy enough to handle rougher waters, yet compact enough to fit into almost any vehicle.
In a hurry? Click here to view on Amazon
Top Features
9' high capacity pontoons with transport wheel
Paddles that offer easy maneuverability
Removable stripping basket and gear bags
More than 20 storage pockets
Sturdy tow position motor mount
Rod holder that features three different mounting positions
400 lb capacity
River rating—Class 1
Assembled size: 108″L 56″W 26″H
Weight: 68 lbs
Check price on Amazon
Best Things About It
The Colorado XT Inflatable Pontoon boat is extremely sturdy, featuring abrasive-resistant undercoating bottoms and tough nylon tops, along with a powder-coated steel tube frame.
The water bladders are cold resistant, allowing you to enjoy your pontoon boat in all kinds of weather and temperatures.
The seat and footrests adjust to a variety of leg lengths, making it comfortable for all passengers to enjoy
With rod holders that can be positioned several different ways, it is easy to relax on the lake and enjoy a day of fishing.
With more than 20 different storage pockets, you never run out of room to stash items in this boat
Assembly is quick and easy, taking mere minutes. Plus it breaks down quickly and can be transported in almost nay size truck or SUV
The pulley system that comes with this pontoon is easy to use and offers a good control anchor system
This is one pontoon boat that is easy to maneuver – even for beginner's
The price is right.  This inexpensive pontoon option allows almost anyone to enjoy boating without the high cost of a more expensive boat.
What We're Not Crazy About
Although easy to transport, this boat can be a bit heavy (around 70 pounds) for one person to set up and put in the water alone.
Even though this pontoon breaks down into a reasonably small package, it can be difficult to fit into the back seat or trunk of a standard car.
We found the seat adjustment on this boat to be a bit tricky.
The lack of cup holders found on this boat is annoying.
The closing inflation mechanism does take some practice to get used to. Since it loses air quickly, it can take several tries at first to get inflated.
While the oars are  a great feature, allowing drivers access to hard to reach fishing holes, it really does take quite  a bit of work to maneuver the boat with juts paddles. Most Colorado XT owners advise adding a small trolling motor for more flexibility.
Check price on Amazon
We Recommend It For
Beginning boaters will find this pontoon easy to manage and fun to drive.
Those with limited space.  Since no trailer is needed to transport the Colorado XT pontoon boat, it works well for those with min vans, small trucks and SUV's.
Those with a tight budget.  The cost of this boat makes it an ideal choice for those  who can't afford a larger pontoon but still want to enjoy the water.
We Don't Recommend It For
Those with little patience.  Although this boat is easy to assemble and quick to set up, it does take some practice to get the routine down.
Those with a small car.  Once dissembled, the boat doesn't always fit into smaller cars and trunks.
Check price on Amazon
Review Summary
The Colorado XT Pontoon boat is a great option for those who want the flexibility of fishing and boating without having to drag a trailer to the lake or find a place to store their boat off season.  This sturdy model offers years of fun on the water with relatively little maintenance and extra expense.  Fun to drive and comfortable to sit in for longer periods of time, both fishing enthusiast and family's will find this pontoon boat a fun way to enjoy their local waterways.
Our Rating
Performance

Value

Features and Accessories

Quality

Use and Maneuverability
Summary
Whether you are an experienced boater or someone who just wants access to a boat once in a while, this inflatable pontoon gives you everything you need to enjoy a day at the lake. Read more reviews on Amazon.