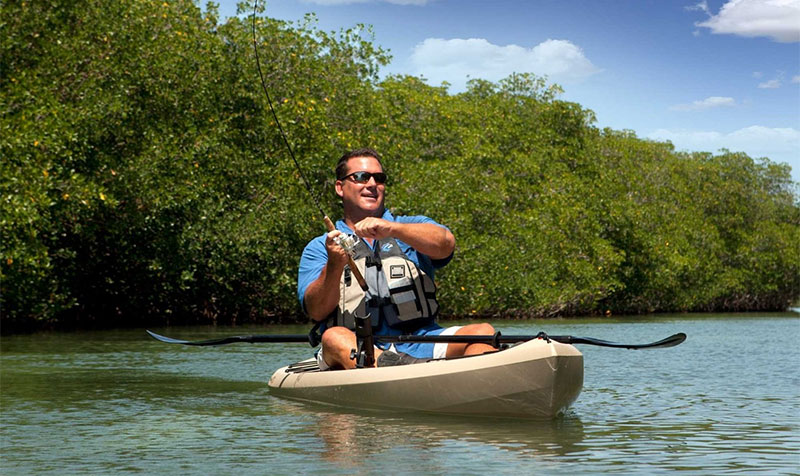 Do You Need An Anchor For Kayak Fishing?
Got a new kayak and ready to take it out fishing? Don't forget to take an anchor! If you want to sit a spell at a hot-spot until you catch your dinner, you will need a pontoon boat anchor. Before heading out the local marine shop, first take a moment to learn a bit about kayak anchor systems so that you know what to look for. And if you need some product recommendations, then check out our suggestions for the best anchor for kayaking fishing enthusiasts like you.
Top 10 Best Kayak Anchor Systems for the Money (2016)
our rating is based on performance and value
Types Of Kayak Anchors
If you're the DIY type who likes to hack things to save money, then you'll quickly discover that lots of yakkers use pretty much anything heavy as an anchor. I've even seen guys use a single brick tied to a rope! But the truth is that you really shouldn't take this approach because there are actual anchors designed for this purpose and because using anything other than a real anchor means that you end up damaging the bottom. And you really should do your part to keep your favorite fishing spot a good one for years to come.
For the most part, you'll find that a 1.5-pound or a 3-pound folding anchor is the ideal option for you. That is what you will most commonly see in the community. If you have never used one of these, then you will probably be surprised by how well they actually work. By design, they lay on their side on the bottom and literally grab the bottom with that side. It's a simple design, but amazingly effective.
Scope
As you do your shopping for the best kayak anchor for the money, you will see "scope" mentioned a lot. It is represented as a ratio and gives you the the water's depth to the amount of line that is paid out from the vessel to the anchor. Typically anglers agree that a 7:1 ratio is ideal when looking for an anchor, but that is not exactly correct when you're in a fishing kayak. Most of the time, you're good with a 1.5-lb anchor, unless you're fishing in water with a strong current. For a strong current, go with a 3-lb model.
Anchor Trolley
One thing that you'll want to make sure that you have in your gear is a good anchor trolley for your fishing kayak. If you don't already have one of these, then definitely get one before heading out on the water again. If this is a new product to you, then you will love how it works. An anchor trolley basically just runs along the side of your kayak and makes it super easy for you to change the position of your anchor without having to get out of the yak. It is very easy to use and install and a definite must-have for the serious kayak fisherman.
Stake-Out Pole
Though it is mentioned below, a stake-out pole is another thing that you'll want to add to your setup. This thing looks a bit odd once you get your fishing kayak rigged to go out on the water, but it is a great way to make sure that you don't drift. You hook it up to the anchor trolley, or put in the scupper holes, and it literally sticks to the bottom to keep your kayak in place. Simple, but effective. The reason that you might want to use a stake-out pole instead of a regular folding anchor is because it is so much quicker to deploy. However, you can really only use one of these if the water you're in is shallow.
Drift Chutes
If you don't really want to be stuck in one place, but just prefer to slow down a bit, then a drift chute is the best way to go here. This things works by actually collecting water in what looks like a small parachute trailing in the water behind your yak. If this sort of thing interests you, then look for a 30″ drift chute for the best results.
Things To Consider
Some things that you need to know about kayaks and anchors include:
Sit still. If you want to catch something, first you have to stop moving. True, a kayak is less discernible than a boat or even a skiff, but fish are fairly clever. The best way to quiet the ripples and sit undetected with your line is with an anchor. When you are in a kayak, you should only drop anchor from the bow or stern, never from the side or you risk flipping the vessel. When this happens, you will have bigger concerns than worrying about being detected by the fish!
Anchors away. It may seem fine to use any heavy, weighted object as an anchor in a small vessel such as a kayak. Resist this urge as the object can have the propensity of moving across the water's floor, which could potentially have dangerous results for anyone in the kayak. A better, more prudent idea is to invest in a simple anchor, between 1.5 and 3-pounds, and to secure it with ample line and a bit of chain to prevent dragging during use.
Bait and switch. So you have your anchor off the bow, and are casting your line up-current; what if you want to quickly move to cast from your stern? The solution could be found with an anchor trolley, which provides rigging to adapt the anchor's line from one end of the boat to the other with little hassle and movement which could be detected by your scaly prey.
So shallow. Another solution for shallow-water fishing utilizes a stake-out pole, which secures your kayak to the water's floor, and that you can attach through the scupper holes in the kayak. This serves almost like a lead for the anchor to shift and be moved, at a moment's notice, while maintaining a still presence which, hopefully, will attract some fish. These can be purchased at the same venues that offer anchors, but you may also make your own, if you are so inclined.
If you are going fishing in your kayak, don't forget the anchor. Avoid risk and potential danger by only using anchors that are intended for this purpose, and not something that seems like it may work. These are truly the best way to remain undetected and stay near a hot-spot when fishing in deep water.