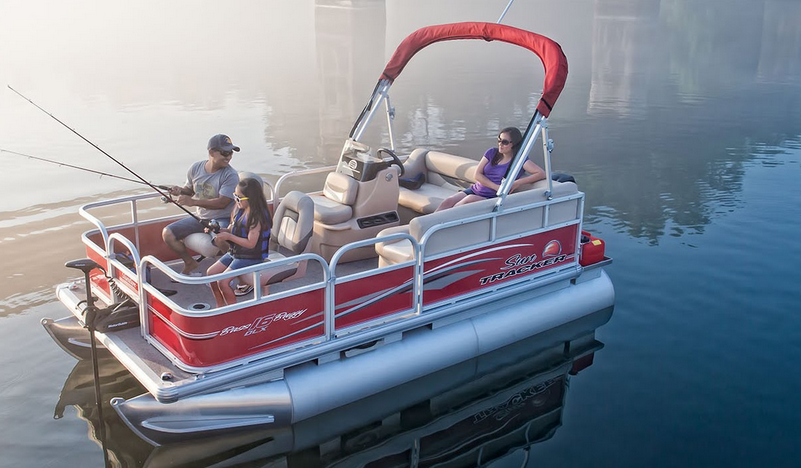 Like Fishing? Here Are The Best Pontoon Rod Holders
Finding the best pontoon rod holder is essential to guaranteeing your comfort and convenience, particularly during fishing trips and excursions at sea. The best rod holder will be made from high quality materials, and feature an innovative design, that guarantees its total reliability and durability.
Pontoon boats (including inflatable pontoon boats) differ widely from other varieties of boat, and therefore rod holders will vary too. In the interest of helping you find a rod holder to suit your needs, we have created a guide to finding and buying the best pontoon rod holders possible.
Fishing Rod For Pontoon Boat Guide
When buying a fishing rod for your pontoon boat, there are a number of considerations for you to keep in mind.
Primarily, you should focus on finding a high quality product that will withstand harsh weather and unpredictable climates. However, there are also other details that you should consider, and finding a product with all of the qualities listed below will ensure your total satisfaction.
Adjustment Angle
When shopping for your pontoon rail rod holder, you should ensure that it has a large adjustment angle- as close to 360 degrees as possible. Having a large adjustment angle will give you more mobility, and allow you the freedom to rotate your rod, particularly in situations where you need flexibility.
Compatibility
In order to ensure that your rod will fit in you chosen holder, you need to check the compatibility between the two. This means ensuring that the holder is wide enough, or can be tightened enough, to fit the width of your rail rod.
Materials and Finishes
When buying your pontoon rod holder, you should check the materials and finishes used during manufacturing. Ideally, you should opt for a holder made from a water-resistant metal; coated to prevent rust or damage from moisture.
Pontoon Rod Holder Review
In today's saturated market, there are many pontoon rod holders available for you to choose from, and most products present themselves as viable options. However, in the interest of helping you choose the best possible pontoon rod holder, we have selected three of our favorite products.
While we strongly recommend the options listed below, we understand that they may not meet your budget or specification. For this reason, we also recommend that you view these three items as a guideline, and a means with which to compare your chosen rod holder.
Pontoon Rail Rod Holder Review #1: Eagle Claw
This pontoon rail rod holder by Eagle Claw is an excellent choice of holder. Made from a highly durable plastic, this is a long-lasting option, ideal for those who enjoy fishing for extended periods of time or in harsh and less temperate conditions.
What We Love:
The Eagle Claw Pontoon Rod Holder is made from a corrosion-proof plastic, that won't rust or mold after prolonged exposure to moisture.
The holder allows for 360 degree movement, making it a very flexible option.
The Eagle Claw holder allows users to adjust the angle of their rod, making it a very versatile holder.
What We Don't Love:
This holder only fits rods of up to 1.375 inches. In most circumstances, this shouldn't be an issue, but for those who have wider rods- this could prove somewhat inconvenient.
Pontoon Rod Holder Review #2: Plusinno
This pontoon rod holder by Plusinno is a wonderful option for those with wider rods, or for fishermen looking to secure their rail rods to a durable and reliable holder. This is a very affordable option, and one that when purchased through amazon.com, can be bought as a two pack.
What We Love:
The Plusinno rail holder is a made from a corrosion-proof plastic, that is both strong and incredibly flexible. According to the manufacturer, the chosen material is also eco-friendly, making this holder an excellent option for those looking to be truly at one with nature.
The holder features a 'universal fit' clamp, that can fit rods of up to 1.97 inches.
This product can be surface or rail mounted.
The holder features a 360 degree adjustable rotation, which is very flexible and ideal for fishing in hard-to-reach areas.
What We Don't Love:
– This is, overall, a very trustworthy and reliable product. A few unfortunate customers were forced to return their product after receiving a weak holder, but this is a rare circumstance, that is usually resolved immediately. We wholeheartedly recommend this product.
Pontoon Rod Holder Review #3: HiUmi
This excellent pontoon rod holder by HiUmi is made from stainless steel, and features an innovative design, suited to those who value high quality products for astoundingly low prices. The holder features an easy to use locking system, an adjustable clamp and many other remarkable additions.
What We Love:
The holder can be mounted on rails, or on the boat itself, meaning that you can choose the location of your rod holder with more ease.
This holder features an innovative locking system, that uses nuts and bolts to securely fasten the rod, while allowing for flexibility and movement.
What We Don't Love:
– The HiUmi rod holder features an excellent mounting system, that can be a little confusing at first. This is, perhaps, not the most user friendly option. However, once you master the mounting technique, you'll quickly learn to appreciate the benefits of this design. This holder is sturdy, heavy-duty and very reliable.
In Conclusion: Buying The Best Pontoon Rod Holder
The easiest way to find, and ultimately buy, the best pontoon rod holder is for you to put quality at the forefront of your search.
If you focus on finding a durable, reliable rod holder that will cradle your rod while allowing you the freedom to move- you will find the 'best' pontoon rod holder. Likewise, if you search for a holder made from corrosion-proof materials, and featuring a suitably wide clamp, you will find the best pontoon rod holder.
As with any purchase, we recommend that you shop around and compare before committing. However, if you follow the simple guidelines listed above, you're sure to find the best pontoon rod holder for your needs.